Flexible, Reliable and Industrial-grade Backbone Network Distance Extension Solution
PLANET IXT-705AT is the smallest Industrial-grade 10G Ethernet Media Converter providing non-blocking wire-speed performance and great flexibility for 10 Gigabit Ethernet extension in harsh industrial environment. It is equipped with one 100Mbps,1Gbps, 2.5Gbps, 5Gbps and 10GBASE-T RJ45 copper interface and one 10GBASE-X SFP+ fiber optic interface delivered in an IP30 rugged but compact-sized case with redundant power system.
The IXT-705AT is ideal for wide applications from copper to fiber media conversion wherever 10Gigabit bandwidth is required in climatically demanding environments with wide temperature ranging from -40 to 75 degrees C.
High Performance 10Gbps Ethernet Capacity
The IXT-705AT offers the wire-speed transfer of packets without the risk of packet loss. The high data throughput of 20Gbps internal fabric and the auto negotiation support in its 10 Gigabit ports makes it ideal for most 10 Gigabit environments. With 16K jumbo frame feature, the IXT-705AT can handle extremely large amounts of data transmission in a secure topology linking to data center cloud computing, enterprise backbones, campus networks, and carrier infrastructure.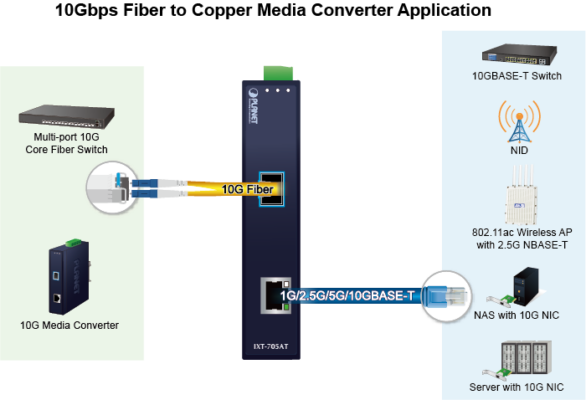 Fiber-optic Linking Capability Enables Extension of Network Deployment
The SFP+ slot of the IXT-705AT is compatible with 10GBASE-SR or 10GBASE-LR (Small Form Factor Pluggable) fiber-optic transceivers. The fiber optic uplink capability guarantees the throughput to all nodes hooked into the network and the 10 Gigabit Ethernet distance can be extended from 300 meters (multi-mode fiber cable) to 10/40/60 kilometers (single-mode fiber cable). It is ideal for applications within the factory data centers and distributions.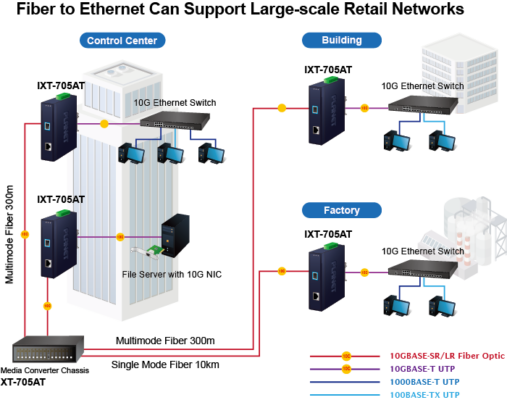 Environmentally Hardened Design
The IXT-705AT is equipped with the slim-type IP30 metal case for easy deployment in heavy Industrial demanding environments. With IP30 industrial case protection, the IXT-705AT provides a high level of immunity against electromagnetic interference and heavy electrical surges which are usually found on plant floors or in curbside traffic control cabinets. Being able to operate under the temperature range from -40 to 75 degrees C, the IXT-705AT can be placed in almost any difficult environment. The IXT-705AT also allows either DIN rail or wall mounting for efficient use of cabinet space.
Convenient and Reliable Power System
To enhance the reliability and flexibility of the operation, the IXT-705AT is equipped with two DC power input connectors for redundant power supply installation. It also possesses an integrated power supply source with wide-ranging voltages (12 to 48V DC or 24V AC) for worldwide high availability applications requiring dual or backup power inputs, incorporated into customer's automation network to enhance system reliability and uptime.
Robust Protection
The IXT-705AT provides contact discharge of ±6KV DC and air discharge of ±8KV DC for Ethernet ESD protection. It also supports ±4KV surge immunity to improve product stability and protects users' networks from devastating ESD attacks, making sure the flow of operation does not fluctuate.