PoE Solutions for Long-reach Distance
De PLANET IPOE-E174 is een industriële 1-Poort Ultra PoE naar 4-Port 802.3af/at Gigabit PoE Extender speciaal ontworpen voor point to multipoint PoE applicaties. The IPOE-E174 can obtain a maximum of 95-watt PoE power from 802.3bt PoE++ input port and supplies a maximum of 75-watt PoE power budget for 4 PoE output ports, extending both the reach of Gigabit Ethernet Data and also the IEEE 802.3at / 802.3af Power over Ethernet over the standaard 100m CAT. 5/5e/6 UTP cable to 200m where up to 4 powered devices (PDs) can be powered at the same time. The IPOE-E174 provides a simple solution for adding PoE ports without running more cabling and achieves more flexible network applications without requiring an external power adapter.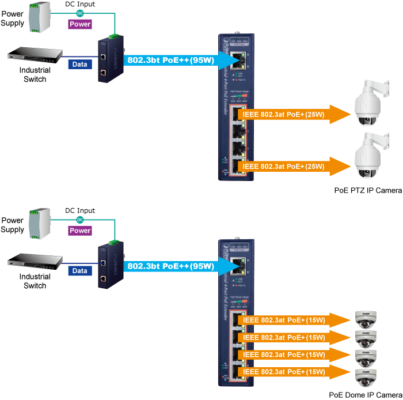 Environmentally-hardened Design
With industrial-grade IP30 metal case, the IPOE-E174 provides a high level of immunity against electromagnetic interference and heavy electrical surges which are usually found on plant floors or in curb-side traffic control cabinets. Being able to operate under the temperature range from -40 to 75 degrees C, the IPOE-E174 can be placed in almost any difficult environment.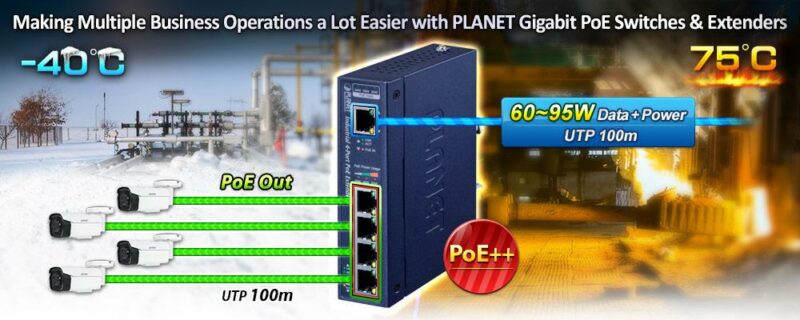 Intelligent LED Indicator for Real-time PoE Usage
The IPOE-E174 helps users to monitor the current status of PoE power usage easily by its advanced LED indication. Called "PoE Power Usage" shown in percentage, the front panel of the IPOE-E174 has three LEDs indicating 20, 40 and 60 watts of PoE power usage. With these LED indications, you can monitor the PoE power status of the IPOE-E174 efficiently.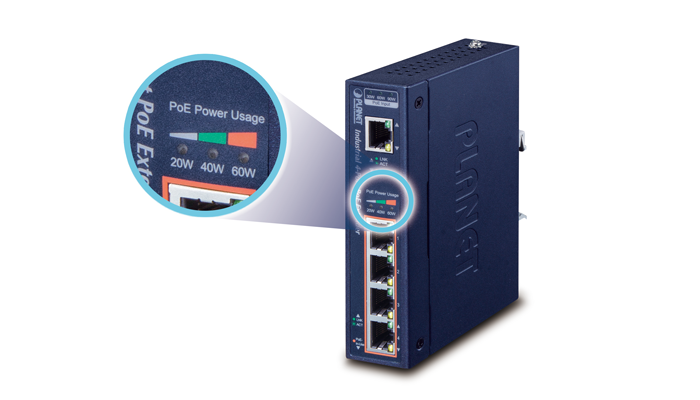 Plug and Play, Easy Cabling Installation
The IPOE-E174 can be easily installed by way of Plug and Play. It is used between a power source equipment (PSE) and the PD. The IPOE-E174 injects power to the PD without affecting the data transmission performance. The IPOE-E174 offers a cost-effective and quick solution to doubling the standard range of PoE from 100 to 200 meters. The IPOE-E174 is designed in a compact box containing 5 RJ45 ports, of which 1 "PoE IN" port functions as PoE (Data and Power) input and 4 "PoE OUT" ports on the other side functions as PoE (Data and Power) output. The "PoE OUT" port is also the power injector where DC voltage is transmitted over Cat. 5/5e/6 cable, and data and power are simultaneously transferred between the PSE and PD.