Een Perfect Gemanagde PoE+ Switch met volledig PoE+ Power Budget
De PLANET GS-5220-8P2T2S is een Layer 2+ Gemanagde Gigabit Switch, die zowel IPv4 and IPv6 protocols en Layer 3 static routing ondersteund, de unit heeft 8 10/100/1000BASE-T poorten met 30-watt 802.3at PoE+, 2 additionele Gigabit koper poorten en nog eens 2 extra 100/1000BASE-X SFP fiber slots. Elk van de acht Gigabit poorten levert 30Watt vermogen, dat betekent dus dat een totaal vermogensbudget van maximaal 240 watt gelijktijdig kan worden gebruikt zonder rekening te houden met de verschillende typen PoE applicaties die worden toegepast. Het levert een snelle, veilige en kosten-effectieve Power over Ethernet Netwerk oplossing voor IP bewaking, voor kleine bedrijven en ondernemingen.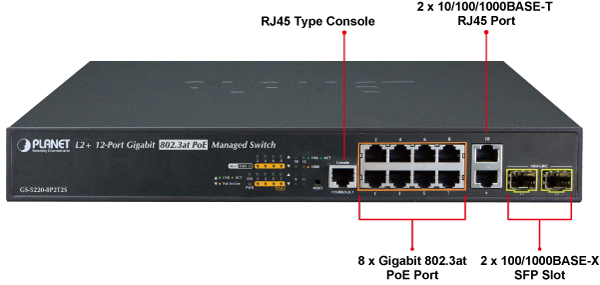 Gecentraliseerd Power Management voor Gigabit Ethernet PoE Networken
Om aan de vraag naar PoE netwerk toepassingen met grotere vermogens en Gigabit transmissie snelheden te voldoen is de GS-5220-8P2T2S uitgerust met high-performance Gigabit IEEE 802.3af PoE (tot 15.4 watt) en IEEE 802.3at PoE+ (tot 30 watt) op alle poorten. Hij komt perfect tegemoet aan de power eisen van PoE VoIP telefoons en alle soorten PoE IP camerass zoals IR, PTZ, speed dome camera's of zelfs box type IP camera's met ingebouwde ventilator en verwarming met hoog vermogen verbruik.
De PoE mogelijkheden van de GS-5220-8P2T2S helpen tevens met het reduceren van de uitrol kosten voor netwerkapparatuur doordat er geen restricties meer zijn door de plaatsinge van stopcontacten. Voeding en data switching zijn geïntegreerd in één unit, geleverd voer één kabel en centraal beheerd. Hierdoor worden de kosten voor extra AC bekabeling geëlimineerd en de installatietijd gereduceerd.
Ingebouwde Unieke PoE Functies voor Bewakings Beheer
Als gemanagde PoE Switch voor bewakingsnetwerken, biedt de GS-5220-8P2T2S intelligente PoE management functies:
■ PD Alive Check
■ Scheduled Power Recycling
■ SMTP/SNMP Trap Event Alert
■ PoE Schedule

Intelligente Gevoede Apparatuur (PD's) Alive Check
De GS-5220-8P2T2S worden geconfigureerd om de status van aangesloten PD's (Powered Device) in real time te monitoren middels ping action. Als een  PD stopt met werken en niet reageert dan kan de GS-5220-8P2T2S de PoE voeding van de poort uitschakelen en weer inschakelen, waardoor de PD weer ingeschakeld wordt. Het PoE poort resetten van de PD's voeding verhoogt de betrouwbaarheid van het netwerk enorm en vermindert tevens de werklast van de beheerder.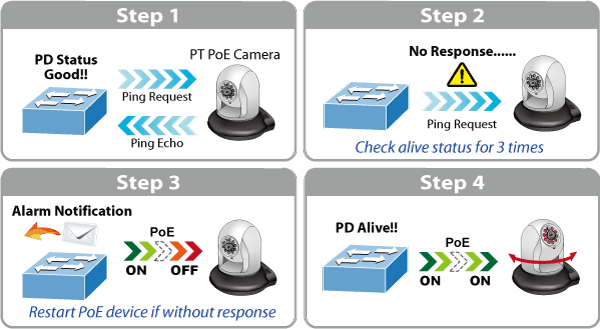 Gepland Power Cycling
Met de GS-5220-8P2T2S is het mogelijk elk van de aangesloten PD's te rebooten op een specifieke tijd iedere week. Hierdoor wordt de kans dat een PD crasht door een buffer overflow gereduceerd.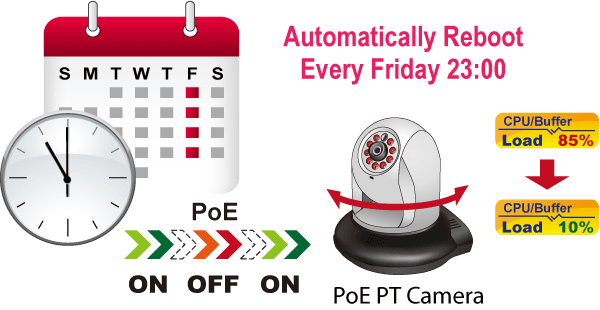 SMTP/SNMP Trap Event Alarm
Ook al biedt de meeste NVR of camera management software SMTP email alarm functionaliteit, de GS-5220-8P2T2S biedt daarnaast nog alarm functies om een diganose te stellen van het abnormale apparaat of er een kabelbreuk is, verlies van PoE power of de reboot reactie door het PD Alive Check proces.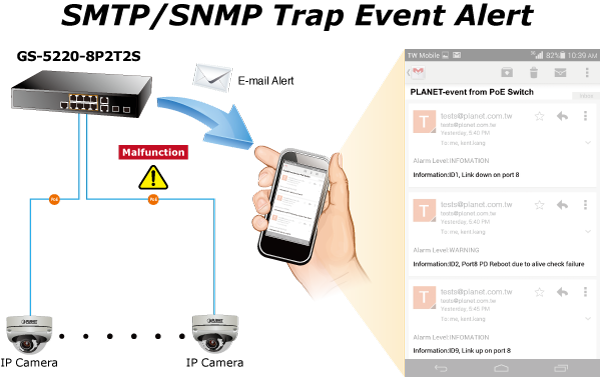 PoE Planning voor Energie Besparing
Naast de toepassing van IP surveillance, is de GS-5220-8P2T2S zeker geschikt om elk PoE netwerk te bouwen inclusief VoIP en wireless LAN. Met de wereldwijde trend van energiebesparing en om bij te dragen aan de millieu bescherming, kan de GS-5220-8P2T2S de voeding effectief controleren naast het leveren van een hoog vermogen. De "PoE Schedule" functie helpt met het in -en uitschakelen van de PoE power voering naar elke PoE poort gedurende specifieke tijdsintervallen en is het een krachtige functie om SMB's en organisaties te helpen met het besparen van energie en budget.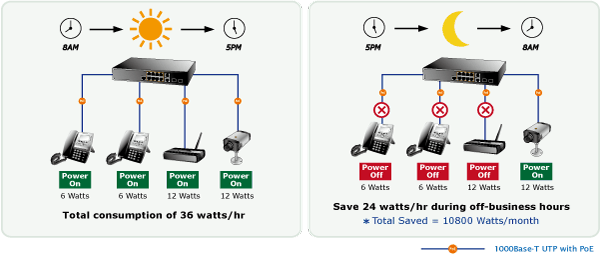 Oplossing voor IPv6 Networken
Met de ondersteuning voor het IPv6/IPv4 protocol, en de eenvoudige en prettige management interfaces, is de GS-5220-8P2T2S de beste keuze voor IP bewaking, VoIP en wireless service providers om te verbinden met het IPv6 netwerk. Hij helpt tevens SMB's om in het IPv6 tijdperk te stappen met de laagste investering en zonder de noodzaak om netwerk faciliteiten te vervangen ook al zetten ISP's het IPv6 FTTx edge netwerk op.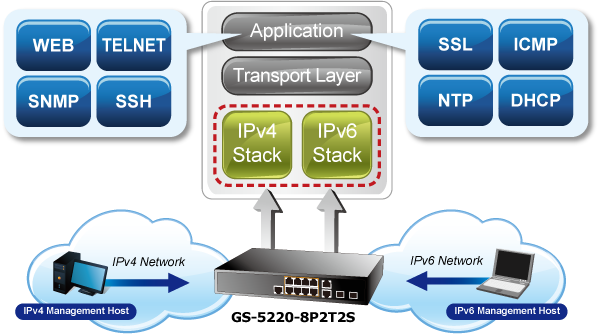 IPv4 en IPv6 VLAN Routing voor Veilig en Flexibel Beheer
Om klanten te helpen met hun tijd mee te gaan levert de GS-5220-8P2T2S niet alleen ultra hoge transmissie prestaties en excellente Layer 2 technologieën, maar biedt hij ook IPv4/IPv6 VLAN routing die het mogelijk maakt over verschillende VLANs en verschillende IP adresen te schakelen om zo een zeer veilige en simpele netwerk applicatie te hebben met een flexibel management.
Robuste Layer2 Opties
De GS-5220-8P2T2S kan worden geprogrammeerd voor geavandeerde switch management functies zoals dynamic port link aggregation, Q-in-Q VLAN, Multiple Spanning Tree Protocol (MSTP), Layer 2/4 QoS, bandwidth control en IGMP/MLD snooping. De GS-5220-8P2T2S maakt een high-speed trunk mogelijk gecombineert met meerdere poorten. Omdat hij 6 trunk groups ondersteunt, kan er een maximum van 8 poorten per trunk worden gebruikt, ook wordt er connection fail-over ondersteund.
Krachtige Beveiliging
De SGS-5220-8P2T2S biedt uitgebreide layer 2 to layer 4 access control list (ACL) om een complete beveiliging te verzekeren. Hij kan worden gebruikt om toegang tot het netwerk te beperken door pakketten te weigeren gebaseerd op bron en doel IP adres, TCP/UDP poort nummer of gedefinieerde typische netwerk applicaties. Het beveiligingsmechanisme omvat tevens 802.1x Port-based en MAC-based gebruiker en device authentication. Met de private VLAN functie kan communicatie tussen edge poorten worden verhinderd om gebruikers privacy te verzekeren. 
Uitgebreide Beveiliging en Traffic Controle
De GS-5220-8P2T2S biedt tevens DHCP Snooping, IP Source Guard en Dynamic ARP Inspection functies to prevent IP snooping from attack en discard ARP packets met invalid MAC address. De netwerk beheerder kan nu een zeer veilig bedrijfsnetwerk opbouwen in aanzienlijk minder tijd en met aanzienlijk minder moeite dan voorheen.
Gebruikers Vriendelijk Beveiliging Management
Voor een efficient beheer is de GS-5220-8P2T2S uitgevoerd met console, web en SNMP management interfaces. Met de ingebouwde web-based beheer interface, biedt de GS-5220-8P2T2S een eenvoudig, platform onafhankelijke management en configuratie functionaliteit. De GS-5220-8P2T2S ondersteunt  SNMP en kan worden beheerd via elke management software gebaseerd op de standaard SNMP v1 en v2 protocollen. Om de leer tijd te verkorten biedt de GS-5220-8P2T2S Cisco-achtige commando's via Telnet of console poort en de klant hoeft geen nieuwe commando's te leren voor deze switches. Verder biedt de GS-5220-8P2T2S veilig management door het ondersteunen van SSH, SSL en SNMPv3 connectie die de pakket content kan coderen bij iedere sessie.

Flexibele en Uitbreidbare Oplossing
De 2 ingebouwde mini-GBIC SFP slots ondersteunen dual speed 100BASE-FX en 1000BASE-SX/LX SFP (Small Form-factor Pluggable) glasvezel modules. Hierdoor kan de beheerder nu flexibel de juiste SFP transceiver kiezen voor niet alleen de transmissie afstand, maar ook voor de benodigde transmissie snelheid. De afstand kan worden uitgebreid van 550 meter tot 2km (multi-mode fiber) en tot 10/20/30/40/50/70/120 kilometer (single-mode fiber or WDM fiber). De modules zijn zeer geschikt voor applicaties in organisaties datacenters en distributies.
Intelligent SFP Diagnose Mechanisme
De GS-5220-8P2T2S ondersteund SFP-DDM (Digital Diagnostic Monitor) functies die de netwerk beheerder helpen de real-time parameters van de SFP transcievers te monitoren, zoals optische output power, optische input power, temperatuur, laser bias current, en transceiver voedingsspanning.