- 1-poort High Power Splitter
- Mid Span
- Gigabit
- 12V / 24V DC output
De POE-162S voldoet aan de nieuwe IEEE 802.3at  High Power over Ethernet standaard die 25,5 Watt maximaal levert aan het aangesloten apparaat. De POE-162S biedt de volgende belangrijke functies:
- Conform IEEE 802.3at Power over Ethernet standaard
- 12Volt / 24Volt DC uitgang selecteerbaar met DIP Switch
- Passief 10/100/1000Mbps Duplex Mode Support
- Snel en eenvoudig High Power PoE netwerk uitrol
De POE-162S is een IEEE 802.3at High Power over Ethernet Splitter die de 52 ~ 56 Volt DC van de PoE ethernet kabel kan splitten in een selecteerbare 12V of 24V DC vermogensuitgang. Het is specifiek ontworpen om aan de groeiende vraag naar hoger vermogen netwerk apparatuur zoals PTZ (Pan Tilt Zoom) netwerk cameras, PTZ Speed Dome camera, kleur touch-screen / Video en Voice over IP (VoIP) telefoons, mulit-channel (11a / b / g / n) draadloze LAN access points en andere netwerk apparatuur te voldoen die een hoger vermogen nodig hebben  dan de IEEE 802.3af om normaal te functioneren. De POE-162S High Power Splitter is een ideale oplossing om vermogen te transporteren naar het netwerk apparaat met een hoge vermogensvraag direct via de RJ-45 poort interface zonder de noodzaak om extra stopcontacten en elektrische bekabeling aan te leggen.
Snel en eenvoudig een High Power PoE netwerk uitrollen
De POE-162S (splitter) kan werken met de IEEE 802.3at Gigabit Power over Ethernet systemen zoals POE-161, High Power PoE Switch en Media Converter (Injector, injecteert DC Spanning in Cat.5/5e/6 kabel) om date en vermogen gelijktijdig te vervoeren naar de eindgebruiker. De POE-161, High Power Switch en Media Converter kunnen de Ethernet digitale data combineren met vermogen over de twisted pair kabels als een IEEE 802.3at Gigabit Power over Ethernet Injector; en de POE-162S zal de digitale data en het vermogen splitsen in 12V / 24V DC uitgangen. De maximale afstand tussen High Power injector en de splitter (POE-152S) bedraagt 100 meter.  Anders dan de huidige Power over Ethernet splitters ondersteunt de POE-162S tevens passive 10/100/1000Mbps ethernet connectiviteit.
Met geinstalleerde IEEE 802.3at Gigabit High Power over Ethernet aparatuur behoeft de administator alleen nog maar een enkele RJ-45 Ethernet kabel toe te passen om vermogen en data naar de gebruiker te transporteren. Tevens door deze toepassing te gebruiken heeft men profeit van een aanzienlijke besparing, eeneenvoudigere netwerk planning en een hogere betrouwbaarheid. 
Installation of IEEE 802.3at Injector and Splitter
Due to the capability of IEEE 802.3at standard, the POE-162S can co-work with the IEEE 802.3at Gigabit PoE injector devices like POE-161, High Power Switch or High Power Media Converter and transform non-PoE equipment to IEEE 802.3at PoE application. For a place which is hard to find the power inlet, the High Power PoE devices and the POE-162S operate as a pair. It provides the easiest way to power your Ethernet devices that need high power input, such as PTZ (Pan, Tilt & Zoom) network cameras, PTZ speed dome camera, color touch-screen voice over IP (VoIP) telephones, and multi-channel wireless LAN access points.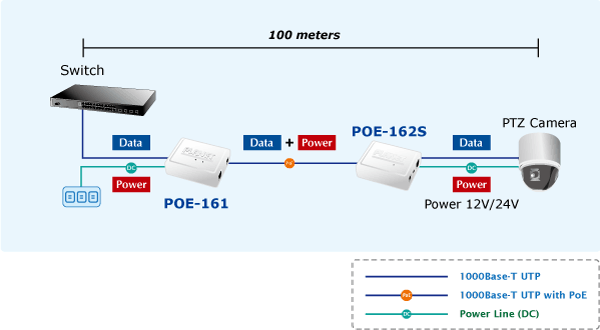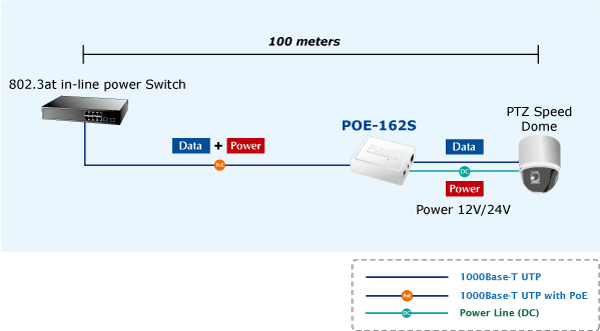 Hardware Specification
Interface
"PoE (Power + Data)" Input Port: 1 x RJ-45 STP
"Data" Output Port: 1 x RJ-45 STP
DC Out Plug Connector: 1
LED Indicator
System: PoE In x 1 (Green)
Network Cable
10Base-T: 2-Pair UTP Cat. 3, 4, 5, up to 100m (328ft)
100Base-TX: 2-Pair UTP Cat. 3, 4, 5, up to 100m (328ft)
1000Base-T: 2-Pair UTP Cat. 5, 5e, 6 up to 100m (328ft)
EIA/TIA- 568 100-ohm STP (100m)
Data Rate
10/100/1000Mbps (vary on Ethernet device attached)
DIP Switch
12V DC / 24V DC output voltage
Power Input
802.3at PoE+ 52 ~ 56V DC
Power over Ethernet
PoE Standard
IEEE 802.3at High Power over Ethernet
Number of client device can be powered
1
Power Output
12V DC, 2A max.
24V DC, 1A max.
DC Plug connectors (Diameter)
2 external female plug cables:
 - 5.5 / 2.5mm to 5.5 / 2.5mm
 - 5.5 / 2.5mm to 5.5 / 2mm
Standards Conformance
Standards Compliance
IEEE 802.3 10Base-T Ethernet
IEEE 802.3u 100Base-TX Fast Ethernet
IEEE 802.3ab 1000Base-T Gigabit Ethernet
IEEE 802.3at High Power over Ethernet
| | |
| --- | --- |
| Prijs | € 34,45 |
| Gewicht | 1.0000 |
| Brand | N/A |
| PoE Power | High Power |
| Netwerksnelheid | N/A |
| Poe Type | Splitter |
| Poorten | 1-poort |
| PoE Norm | IEEE 802.3at |
Product Vragen
---
Wanneer pas ik een POE injector en wanneer een splitter toe?

Vraag van: admin op 2017-05-04 10:07:09

Uw PoE apparaat moet aan een IEEE802.3a norm voldoen, bijvoorbeeld de IEEE802.3af of at norm. Dit vindt u in de specificaties van uw apparaat terug. Soms gebruikt een merk haar eigen PoE norm, dan is het niet geheel zeker of wij dit kunnen voeden. Onze planet producten voldoen aan de internationaal vastgestelde normen. U moet op een aantal zaken letten:
- De netwerksnelheid... Lees meer

Antwoord van: admin op 2017-05-04 12:07:09