Voor een compacte, eenvoudige en snelle toepassing bij SOHO / thuisgebruikers PoE applicatie omgevingen heeft Planet de FSD-504HP ontworpen, een gloed-nieuwe desktop-formaat 802.3at/af PoE switch.
De geavanceerde specificaties van de FSD-504HP zijn onder andere:
■ 4-poort PoE, 60-watt PoE budget
■ Een 10/100Mbps uplink poort
■ Compact desktop palm formaat ontwerp
Gecentraliseerde Power Distributie voor kleine Ethernet Netwerken
De FSD-504HP is een 4-poort 10/100Mbps 802.3at/af Power over Ethernet + 1-port Fast Ethernet Switch met een totaal beschikbaar vermogen van 60 watts, wat een ideale oplossing is om tegemoet te komen aan de wens voor voldoende PoE power voor netwerk applicaties. De vier 802.3at / af PoE poorten leveren PoE power injector functie die in staat is 2 IEEE 802.3at compliant powered systemen of 4 IEEE 802.3af compliant powered devices te voeden. De FSD-504HP biedt tevens een eenvoudige, goedkope en non-blocking wire-speed prestatie. De unit is gebouwd in een compate handformaat metale behuizing, geschikt voor desktop toepassing of SOHO of thuis gebruik netwerk omgevingen.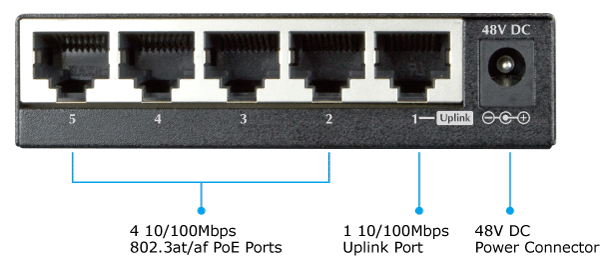 Ideale oplossing voor SOHO Beveilinging IP bewakingsinfrastructuur
Met het oog op populaire IP surveillance applicaties, is de SD-504HP 802.3at / af PoE Switch tevens gepositioneerd als een Bewakingsswitch voor snel en eenvoudige PoE IP camera installatie met PoE power feeding. De FSD-504HP ondersteunt 802.3at en 802.3af PoE standaard met 4 10/100Base-TX poorten die tot 30 watts per RJ-45 koper interface leveren, en 1 extra Fast Ethernet TP interface die high speed transmissie ondersteunt van bewakings beelden en video's.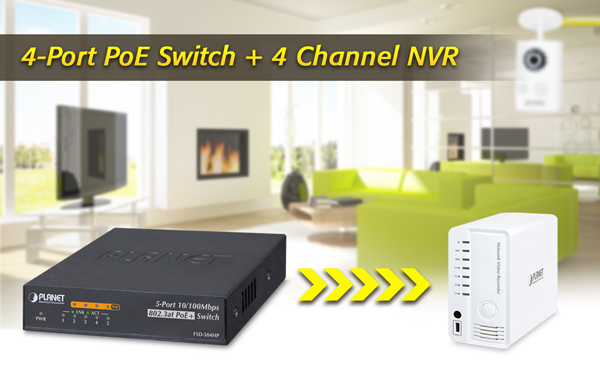 Eenvoudige kabel verbindingen
Met het data switching en power over Ethernet geïntegreerd in één unit, reduceert de FSD-504HP het aantal benodigde kabels en elimineert hij de noodzaak van stopcontacten op de muur, plaffond of andere slecht bereikbare plaatsen. Een kabel die zowel data als power kan voeren verlaagt de installatie kosten, vereenvoudigt de installatie moeite en elimineert de noodzaak voor verlengkabels. Met 4 PoE interfaces, is de FSD-504HP ideaal voor kleine bedrijven en werkgroepen. Hierdor wordt het uitrollen van de PoE faciliteit met daarin wireless access points, IP-based bewakingscameras en IP telefoons, efficienter en goedkoper.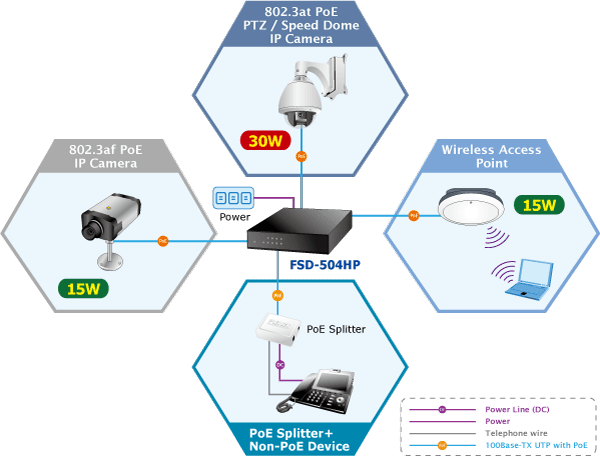 SOHO / HOME-gebruik Fast Ethernet PoE Netwerk Uitrol
Met zijn uitgebreide thuis-gebruik eigenschappen, helpt de FSD-504HP 802.3at / af PoE Switch SOHO / thuis gebruikers een geïntegreerd data, video en power netwerk te creeren. De draadloze AP en PoE IP camera systemen werken perfect met de FSD-504HP, die de power injecteert door de ethernet kabels en hiermee de SOHO / Thuis gebruikers helpend een kosten-effectief en betrouwbaar netwerk omgeving eenvoudig op te bouwen.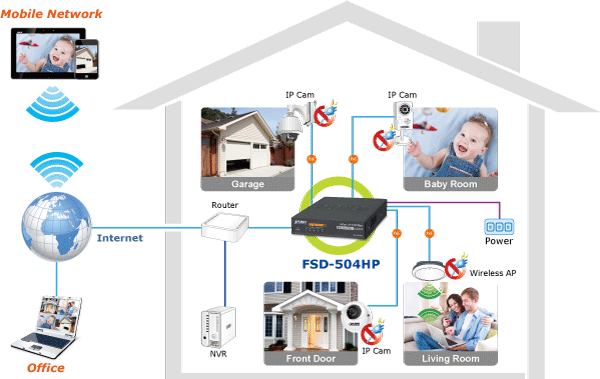 Perfect Geïntegreerde Oplossing voor PoE IP Camera en NVR Systeem
De FSD-504HP levert vier 802.3at / af PoE poorten om een klein schalig Thuis en SOHO IP bewakingsnetwerk te bedienen tegen een lage totaal prijs. De FSD-504HP  bezit een hoge prestatie switch architectuur en een totaal vermogen van 60-watt PoE power. De opgenomen video bestanden van de 4 PoE IP camera's kunnen worden gevoed door de FSD-504HP en opgeslagen in het 4-kannaals channel NVR systeem of met behulp van bewakings software worden gebruikt voor geavanceerde beveiligings bewaking.
Een FSD-504HP kan bijvoorbeeld worden gecombineerd met een 4-kanaal NVR; dus, ieder van de PoE poorten kan worden verbonden met een specifieke 802.3af PoE IP camera zodat de beheerders het bewakingssysteem centraal en effiecient kunnen beheren. De FSD-504HP's Fast Ethernet TP interface biedt tevens Fast Ethernet TP connection voor uplink naar een NVR systeem of publieke server groep.