PoE Oplossing om de RJ45 100m grens te Overwinnen
De PLANET POE-E202 is een 1-poort PoE+ naar 2-poort 802.3af/at Gigabit PoE Extender die speciaal is ontworpen voor point to multipoint PoE applicaties. De POE-E202 kan maximaal 30-watt PoE power van de PoE+ input poort gebruiken en daarmee een maximum van 25-watt PoE power budget voor twee PoE uitgangspoorten toepassen, beide uitbreidend tot over de Gigabit Ethernet Data en IEEE 802.3at/802.3af Power over Ethernet standaard 100m (328 ft.) Cat. 5/5e/6 UTP kabel naar twee 200m gevoede systemen gelijktijdig.
De POE-E202 biedt een eenvoudige oplossing voor het toevoegen van PoE poorten zonder de noodzaak van meer bekabeling en levert hij meer flexibele netwerk applicaties zonder de noodzaak van externe voedingsadapters.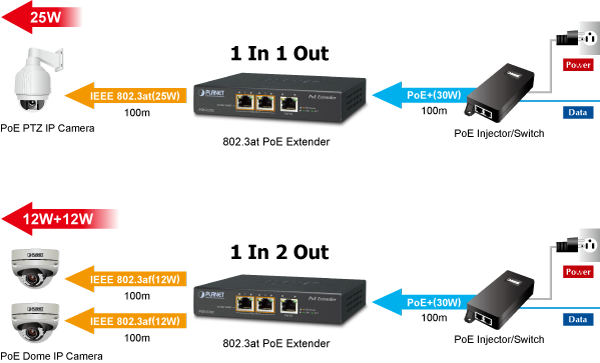 Plug and Play Installatie
De POE-E202 is erg eenvoudig te installeren door simpele plug and play. Hij wordt geplaatst tussen een PoE voedingssysteem (PSE) en een gevoed systeem (PD). De POE-E202 injecteert power naar de PD zonder de data transmissie prestaties te beïnvloeden. De POE-E202 biedt een goedkope en snelle oplossing om het standaard bereik van PoE van 100 naar 200 meter te verdubbelen. De POE-E202 is ontworpen in een compacte behuizing met drie RJ45 poorten, waarvan één "PoE IN" poort functies als PoE (Data en Power) input en de andere twee "PoE OUT" poorten functies als PoE output. De "PoE OUT" poort is tevens de power injector die de DC Spanning over de Cat5/5e/6 kabel stuurt en de data en power gelijktijdig tussen PSE en PD verzend.