Snel en eenvoudig een Gigabit Ultra Power PoE Netwerk uitrollen
De POE-171 is een enkel poorts ultra Power over Ethernet Injector met een maximum van 60 watts uitgangsvermogen over Ethernet kabel. Hij is specifiek ontworpen om te voldoen aan de groeiende wens voor netwerk apparatuur met een hoger vermogen. Wanner de POE-171 samen werkt met de PLANET POE-171S (60-watt IEEE 802.3at PoE splitter), kan hij nog meer PoE applicaties bieden, zoals:
■ PoE PTZ Speed Dome
■ Andere Netwerk systemendie hogere PoE Power nodig hebben om normaal te functioneren
■ Thin-client
■ AIO(All-in-One) touch PC
■ Remote digital signage display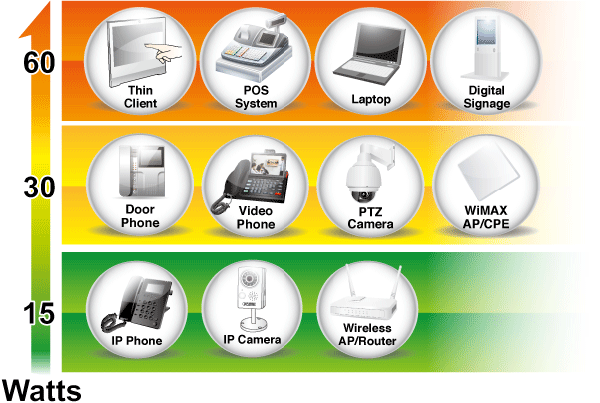 De POE-171 levert de Ethernet digitale data met DC 56V power over de twisted pair kabel als een IEEE 802.3at Gigabit High Power over Ethernet Injector, en hij ondersteund afstanden van de POE-171 tot aan een PoE apparaat tot wel 100 meter.
60 watts of Power over 4-Pair UTP
The POE-171 ultra PoE solution uses cabling standard as IEEE 802.3at/af PoE. Instead of delivering power over 2-pair twisted UTP – be it End-span (Pin 1,2,3 and 6) or Mid-span (Pin 4,5,7 and 8), it provides the capability to source up to 60 watts of power by using all the four pairs of standard Cat5e/6 Ethernet cabling. In the new 4-pair system, two PSE controllers will be used to power both the data pairs and the spare pairs.
Cost-effective and Easy Cabling Installation
With concepts of "Easy to install", "Plug and Play" and "Simple troubleshooting" for business and home users, the POE-171 is in the compact size housing, and it provides one 52~56V DC input power jacket at its right side, one power LED and two PoE In-use LEDs (802.3at End-span and 802.3at Mid-span) at top side. Two RJ-45 ports — Ethernet port and Ethernet+DC port — are at side panel. Simply plug in the Ethernet cables and DC power cord, and the POE-171 is ready to provide high speed network communication and 60-watt ultra power PoE injector functions simultaneously with no need of software configuration.

The POE-171 Ultra PoE Injector is an ideal solution that enables network device with high power demand to be powered directly via the RJ-45 Port interface without the need to install power outlets and electrical cabling.