The WGSW-24040HP series is the latest generation of PLANET Managed Gigabit PoE Switches featuring PLANET intelligent PoE functions to improve the availability of critical business applications. The series provides IPv6/IPv4 management and built-in L2/L4 Gigabit Switching engine along with 24 10/100/1000Base-T ports featuring 30-watt 802.3at PoE+ and 4 Gigabit SFP slots. With total power budget up to 220W and 440W for different kinds of PoE applications, the series provides quick, safe and cost-effective Power over Ethernet network solutions to security IP surveillance for small business and enterprises.

Centralized Power Management for Gigabit Ethernet PoE Networking
To fulfill the needs of higher power required PoE network applications with gigabit speed transmission, the WGSW-24040HP series features IEEE 802.3at power over Ethernet plus(PoE+) that combines up to30 watts of power output and data per port over one CAT 5E/6 Ethernet cable. It is designed specifically to meet the demand of higher power consuming network PD (powered devices) such as IR, PTZ, Speed Dome cameras or even Box type IP cameras with built in fan and heater. Compliant with both 802.3at and 802.3af, the series allows more flexibility in power requirement for a variety of PDs.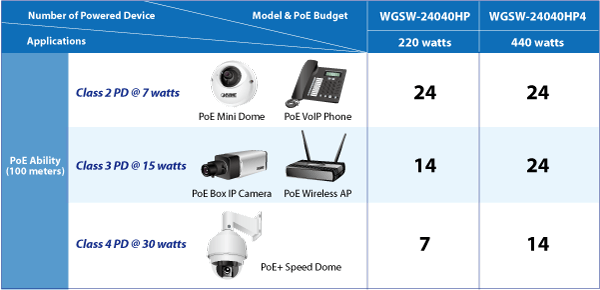 Built-in Unique PoE Functions for Powered Devices Management
As a managed PoE Switch for surveillance, wireless and VoIP network, the WGSW-24040HP series features special PoE Management functions:
  ■ PD ALIVE Check
  ■ Scheduled Power Recycling
  ■ SMTP/SNMP Trap Event Alert
  ■ PoE Schedule
Intelligent Powered Device Alive-Check
The WGSW-24040HP series can be configured to monitor connected PD (Powered Device) status in real-time via ping action. Once the PD stops working and responding, the WGSW-24040HP series will resume the PoE port power and bring the PD back to work. It will greatly enhance the network reliability through the PoE port resetting the PD's power source and reducing administrator management burden.

Power Recycling Schedule
The WGSW-24040HP series allows each of the connected PoE IP cameras to reboot at a specified time each week. Therefore, it will reduce the chance of IP camera crash resulting from buffer overflow.
SMTP/SNMP Trap Event Alert
Though most NVR or camera management software offers SMTP email alert function, the WGSW-24040HPs further provides event alert function to help to diagnose the abnormal device owing to the breakdown of the network connection, loss of PoE power or the rebooting response by PD Alice Check process.
PoE Schedule for Energy Saving
Under the trend of energy saving worldwide and contributing to environmental protection, the WGSW-24040HP series can effectively control the power supply besides its capability of giving high watts power. The "PoE schedule" function helps you to enable or disable PoE power feeding for each PoE port during specified time intervals and it is a powerful function to help SMB or enterprises save power and money.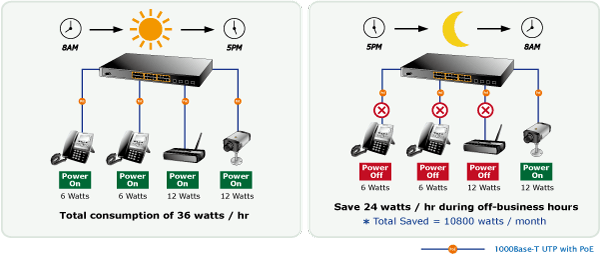 Cost-effective IPv6 Managed Gigabit Switch Solution for SMB
Faced with the increasingly large number of IP cameras and Wireless APs being installed and deployed in all kinds of applications, more and more network equipment comes with IPv6 protocol for next generation networking. The WGSW-24040HP series supports both the original IPv4 network structure as well as the new IPv6 protocol. With easy and friendly management interfaces and plenty of management functions included, the WGSW-24040HP series is the best choice for SMB, and IP Surveillance and Wireless service providers to connect with IPv6 network.
Efficient Management
For efficient management, the WGSW-24040HP managed switch series is equipped with console, web and SNMP management interfaces. With the built-in web-based management interface, the WGSW-24040HP series offers an easy-to-use, platform independent management and configuration facility. The WGSW-24040HP series supports SNMP and it can be managed via any based on standard of SNMP v1 and v2 management software. For text-based management mode, the WGSW-24040HP can be accessed via Telnet and the console port. Moreover, the WGSW-24040HP series offers remote secure management by supporting SSH, SSL and SNMPv3 connection which can be encrypted the packet content at each session.
Robust Layer2 Features
The WGSW-24040HP series can be programmed for advanced switch management function, such as dynamic port link aggregation, Q-in-Q VLAN, private VLAN, rapid spanning tree protocol, layer2 to layer4 QoS, bandwidth control and IGMP/MLD snooping. The WGSW-24040HP series provides 802.1Q tagged VLAN and the VLAN groups allowed will be maximally up to 255. The WGSW-24040HP not only allows the operation of a high-speed trunk combining multiple ports, but also supports connection fail-over.
Powerful Security
The WGSW-24040HP series offers comprehensive layer2 to layer4 access control list (ACL) for enforcing security to the edge. It can be used to restrict to network access by denying packets based on source and destination IP address, TCP/UDP port number or defined typical network applications. Its protection mechanism also comprises 802.1x Port-based and MAC-based user and device authentication. With the private VLAN function, communication between edge ports can be prevented to ensure user privacy. The WGSW-24040HP series also provides DHCP Snooping, IP Source Guard and Dynamic ARP Inspectionfunctions to prevent IP snooping from attack and discard ARP packets with invalid MAC address. The network administrator can now construct highly secured corporate networks with considerably less time and effort than before.
Flexible and Extendable Solution
The four mini-GBIC slots built in the WGSW-24040HP series support dual speed that 100Base-FX and 1000Base-SX/LX SFP (Small Form-factor Pluggable) fiber-optic modules. Now the administrator can flexibly choose the suitable SFP transceiver according to not only the transmission distance, but also the transmission speed required. The distance can be extended from 550 meters to 2km (Multi-Mode fiber) up to above 10/20/30/40/50/70/120 kilometers (Single-Mode fiber or WDM fiber). They are well suited for applications within the enterprise data centers and distributions.