Cost-effective Solution for RS232/422/485 Serial-to-Ethernet Application
Planet ICS-115A device server is specially designed to convert RS232, RS422 or RS485 serial communication. It converts this to Fast Ethernet networking to extend the network distance efficiently and inexpensively.
For more industrial automation products click here: https://shop4power.nl/s/industriele-automatisering/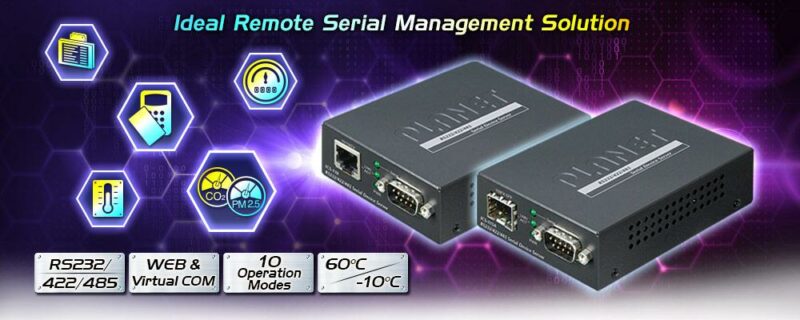 There is one 100BASE-FX single-mode/multi-mode media available in the ICS-115A and its operating temperature ranges from -10 to 60 degrees C for your network needs. The ICS-115A is a time-saving and cost-effective solution for users and system integrators to quickly transform their serial devices into the Ethernet network with no need of replacing the existing serial devices and software system.

Extending Distance
Planet ICS-115A device server is able to extend the distance of deploying serial equipment and hosts. The selectable fiber-optic cables on the basis of distance are provided. Therefore, this product will perfectly satisfy the diverse demands while providing reliable and efficient network solutions based on the distance and budgets of installation.

Remote Management
The ICS-115A provides an easy serial-to-Ethernet connectivity and connection to a TCP/IP network. Because of this the remote network system can thus be managed efficiently via its Web, telnet and VCOM management interfaces. It supports both application and serial operation modes for alarm or IP address connection. This saves the network administrator's time in detecting and locating network problems without visual inspection of the cabling and devices. Multiple connection options are available for large networking environment as well.

Easy Chassis Installation
The ICS-115A can be used as a stand-alone unit or a slide-in module to PLANET Media Converter Chassis (MC-700 and MC-1500 chassis). The media chassis can assist in providing DC power to the ICS-115A and can be DIN-rail or wall mounted for efficient use of cabinet space, without the need of replacing the existing serial equipment and software system.

For more information check out: http://planet.com.tw