Een perfect gemanagede PoE+ Switch met geavanceerd L2/L4 Switching en Beveiliging
De PLANET GS-4210-8P2S is een kosten-geoptimaliseerde, desk-top gemanagede Gigabit PoE+ Switch met Planet intelligente PoE funties om de beschikbaarheid van krititsche bedrijfsapplicaties te verhogen. De Switch biedt IPv6/IPv4 dual stack management en een ingebouwde L2/L4 Gigabit switching engine samen met 8 10/100/1000BASE-T poorten die 36-watt 802.3at PoE+ bieden en 2 additionele Gigabit SFP slots. Met een totaal vermogensbudget van maximaal 120 Watt voor verschillende soorten PoE applicaties, het levert een snelle, veilige en kosten-effectieve Power over Ethernet netwerk oplossing voor kleine bedrijven en grote ondernemingen.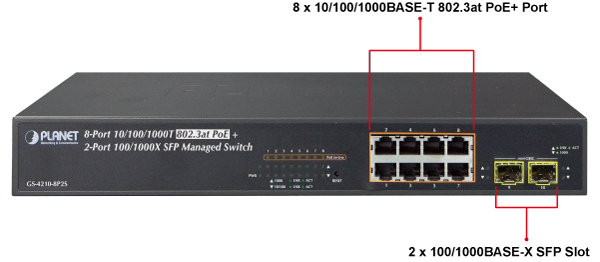 Ingebouwde Unieke PoE funties voor Powered Devices Management
Daar de switch veel wordt gebruikt als managed PoE switch voor beveiliging, draadloze en VoIP netwerken, biedt de GS-4210-8P2S de volgende speciale PoE management functies:
■ PD alive check
■ Scheduled power recycling
■ PoE schedule
■ PoE usage monitoring
Intelligente Powered Device Alive-Check
De GS-4210-8P2S kan worden geconfigureerd om van aangesloten PD's (Powered Device) de status in real time te monitoren via ping action. Op het moment dat een PD stopt met werken en antwoorden zal de GS-4210-8P2S de poort "power-cyclen" en de PD weer in werking krijgen. Dit zal de netwerkbetrouwbaarheid aanzienlijk verbeteren door het resetten van de PoE poort, de management taken administrator worden hierdoor verminderd.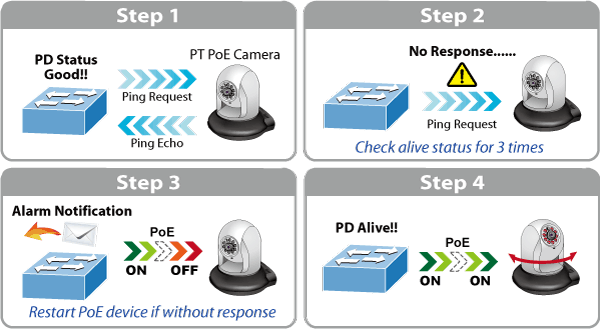 Scheduled Power Recycling
De GS-4210-8P2S maakt het mogelijk elk van de aangesloten PoE IP camera's of PoE draadloze access points wekelijks te herstarten op een specifiek tijdstip. Hierdoor wordt de kans verkleind dat een camera of AP vastloopt door een buffer overflow.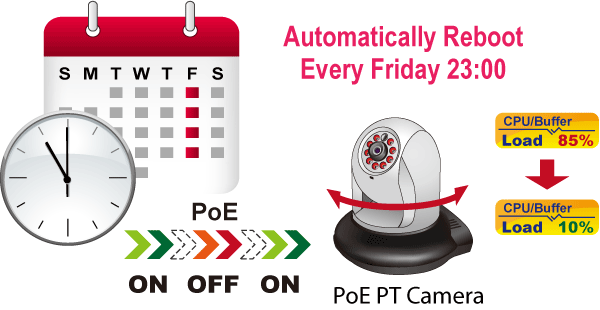 PoE Schedule voor Energie Besparing
De trend volgend van wereldwijde energiebesparing en bijdragen aan milieubescherming, kan de GS-4210-8P2S de voeding effectief controleren naast het bieden van hoge vermogens. De "PoE schedule" functie helpt U de PoE power voeding aan en uit te schakelen voor iedere PoE poort gedurende specifieke tijdintervallen en het is een krachtig hulpmiddel bij het helpen van bedrijven om energie en dus ook geld te besparen. Tevens vergroot het af schakelen van PD's die niet ingeschakeld behoren te zijn buiten kantooruren de veiligheid van het bedrijf.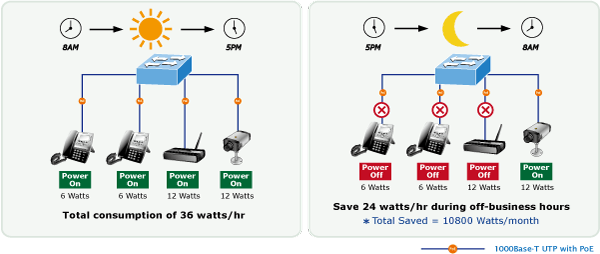 PoE Verbruik Bewaking
Via de power usage chart in de web management interface, maakt de GS-4210-8P2S het de beheerder mogelijk de status van het vermogensvebruik van de aangesloten PD's in real time te monitoren. Hierdoor wordt de management effectiviteit aanzienlijk vergroot.
Milieu vriendelijke Smart Fan Ontwerp voor Stille Werking
De GS-4210-8P2S biedt een desktop-formaat metalen behuizing, een stil ontwerp en een effectief ventilatie systeem. Het ondersteunt de smart fan technologie die automatisch de snelheid van de ingebouwde ventilatoren controleert om zo het geluid te reduceren en de temperatuur van de PoE switch bewaken voor optimale uitput power prestaties. De GS-4210-8P2S is is staat betrouwbaar, stabiel en stil te werken in iedere omgeving, zonder invloed op de prestaties.
IPv6 / IPv4 Dual Stack Management
Zowel het IPv6 als het IPv4 protokol ondersteunend helpt de GS-4210-8P2S de bedrijven in het IPv6 tijdperk te stappen met de kleinst mogelijke investiring, aar de netwerkfaciliteiten niet vervangen hoeven te worden of geupdate als het IPv6 FTTx edge netwerk wordt opgebouwd. 
Robuuste Layer 2 Eigenschappen
De GS-4210-8P2S kan worden geprogrammeerd voor geavanceerde switch management functions zoals dynamic port link aggregation, 802.1Q VLAN en Q-in-Q VLAN, Multiple Spanning Tree protocol (MSTP), loop en BPDU guard, IGMP snooping, en MLD snooping. Via de link aggregation, staat GS-4210-8P2S de werking van een high-speed trunk toe om met multiple poorten te combineren, en ondersteund ook fail-over. Tevens is de Link Layer Discovery Protocol (LLDP) het Layer 2 protocol aanwezig om basis informatie te vinden over neighboring devices in het local broadcast domain.

Efficient Traffic Control
De GS-4210-8P2S is geladen met robuuste QoS features en krachtige traffic management om zo de service to business-class data, voice, en video solutions te verbeteren. De functionaliteit omvat broadcast / multicast storm control, per poort bandwidth control, IP DSCP QoS priority en remarking. Het garandeert de beste prestaties voor VoIP en video stream transmission, en faciliteert de organisaties om de beperkte netwerk resources volledig te benutten.
Krachtige beveiliging
De PLANET GS-4210-8P2S biedt een uitgebreide IPv4 / IPv6 Layer 2 to Layer 4 Access Control List (ACL) om maximale beveiliging mogelijk te maken. Het kan gebruikt worden om netwerk toegang te beperken door pakketten te weigeren gebaseerd op bron en doel IP adressen,  TCP/UDP poorten of gedefinieerde typische netwerk applicaties. Het beveiligingsmechanisme omvat tevens 802.1X port-based user en device authentication, die kan worden uitgevoerd met RADIUS om een poort level beveiliging te creëeren en illegale gebruikers te blokkeren. Met de protected port functie, kan communicatie tussen edge poorten worden voorkomen teneinde gebruikers privacy te garanderen. Daarnaast maakt de Port security functie het mogelijk het aantal netwerk devices op een bepaalde poort te limiteren.
Advanced Network Security
De GS-4210-8P2S biedt tevens DHCP snooping, IP source guard en dynamic ARP inspection functies om IP snooping from attack te voorkomen en ARP packets met invalid MAC address te negeren. De netwerk administrators kunnen nu zwaar beveiligde bedrijfsnetwerken bouwen in aanzienlijk minder tijd en met veel minder moeite dan voorheen.
Friendly and Secure Management
T.b.v. efficiënt management is de GS-4210-8P2S voorzien van web, Telnet en SNMP management interfaces. Met de ingebouwde web-based management interface, biedt de GS-4210-8P2S een easy-to-use, platform-independent management en configuratie faciliteit. Door het ondersteunen van de standaard SNMP, kan de switch gemanaged worden met iedere standaard management software.Voor text-based management, kan de switch benaderd worden viaTelnet. Verder biedt de GS-4210-8P2S veilig remote management door de ondersteuning van SSH, SSL en SNMP v3 verbindingen die de pakket inhoud bij iedere sessie coderen.
Flexibility and Long-distance Extension Solution
De twee in de GS-4210-8P2S ingebouwde mini-GBIC slots ondersteunen SFP auto-detection en dual speed daar het 100BASE-FX en 1000BASE-SX/LX SFP (Small Form-factor Pluggable) fiber transceivers biedt teneinde naar een backbone switch en monitoring center te uploaden op lange afstand. De afstand kan worden uitgebreid van 550 meter tot 2 kilometer (multi-mode fiber) en tot meer dan 10/20/30/40/50/70/120 kilometers (single-mode fiber or WDM fiber). Ze zijn uitermate geschikt voor applicaties binnen grote datacenters en distributies.
Intelligent SFP Diagnosis Mechanism
De GS-4210-8P2S ondersteunt SFP-DDM (Digital Diagnostic Monitor) functies die eenvoudig de real-time parameters van de SFP kunnen bewaken voor de netwerkbeheerder, zoals optical output power, optical input power, temperatuur, laser bias current en transceiver supply voltage.