De PLANET Long Reach PoE oplossing is ontworpen om IP Ethernet transmissie uit te breiden en gelijktijdig power te injecteren in een 802.3af/at PoE compatibel gevoed apparaat (PD) over afstanden langer dan de 100 meter afstandslimiet van Ethernet.
Passende PoE over UTP Extender in Zware Omgevingen
De LRP-101U-KIT, een PLANET Long Reach PoE oplossing, is een Enkel-poort PoE over UTP Extender Kit die lange afstand data en power transmissie biedt over afstanden tot wel 500m (1,640ft.) over UTP kabel, en nog eens 100m over Ethernet kabel naar een remote PoE IP camera, PoE wireless AP of toegangscontrole systeem compatibel met 802.3af/at PoE. De LRP-101U-KIT levert een point to point toepassing voor eenvoudige plug-n-play werking en inzet in klimatologisch veeleisende omgevingen met een wijde temperatuur range van -20 tot 70 degrees C. Zonder het probleem van een voedingsbron wordt de installatie van een remote PoE gevoed systeem eenvoudig en efficienter.
Samenstelling van de Long Reach PoE over UTP Extender Kit
De LRP-101U-KIT bestaat uit een Long Reach PoE injector en een Long Reach PoE extender set die als paar overal in uw netwerk infrastructuur kan funtioneren. Het bestaat uit twee gloednieuwe producten: 
■ LRP-101UH: 1-Poort 10/100TX PoE PD + 1-Poort UTP Long Reach PoE Injector
■ LRP-101UE: 1-Poort 10/100TX PoE PSE + 1-Poort UTP Long Reach PoE Extender
De LRP-101UH verstuurt data en power over UTP kabel naar de LRP-101UE, deze kan wel op 500 meter afstand geplaatst zijn. Hij levert dan de data en power uitgang met een maximum vermogen van 25 watt naar een PoE PD over de ethernet kabel, waardoor bijv. het IP bewakingsnetwerk of draadloze LAN infrastructuur over lange afstand. Beide units zijn uitgevoerd in een robuste metalen behuizing. Het, voor wandbevestiging geschikte, ontwerp past eenvoudig in elke krappe locatie.

Power Input

RJ45 met 802.3at/af PoE input power adapter met 48~56V DC in

UTP met DC power over UTP input

Power Output

UTP met DC power over UTP output

RJ45 met 802.3at/af PoE output

LAN Connectie

NVR of PoE+ Ethernet switch aan begin

PoE IP camera, PoE wireless AP, PoE access control op remote locatie
IP Ethernet en Power over Long UTP of Twisted-pair Kabel
Een normale UTP kabel kan verlengd worden tot 100 meter, maar de LRP-101U-KIT kan een PoE netwerk tot 500 meter voeren over een lange 4-paar UTP kabel of tot 300 meter over een bestaande 1-paar twisted-pair kabel, zoals een telefoonkabel, met een stabiele, high-quality video transmissie. Hierdoor is power op locatie niet meer nodig terwijl een enkele voedingsbron zowel de LRP extenders kan voeden alsook de PoE IP camera op grote afstand.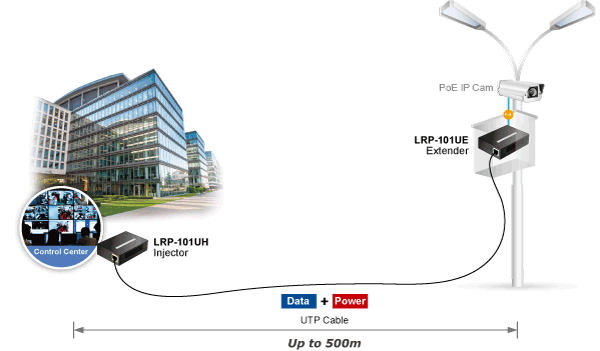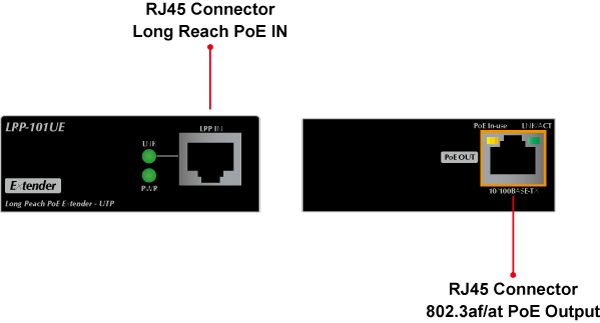 Stabiele Werking Prestaties onder Moeilijke Omstandigheden
De PLANET Long Reach PoE Extender Kit is de perfecte oplossing voor afstand uitbreiding voor PoE of non-PoE netwerken voor loodsen, parkeergarages, campussen, casino's en veel meer. De kit kan stabiel functioneren binnen een temperatuurrange van -20 tot 70 graden C om de gebruikers in staat te stellen om eenvoudig de kit toe te passen op nagenoeg elke locatie.
Plug-n-play Installatie
Met de plug and play optie kan de PLANET Long Reach PoE Extender Kit direct worden gebruikt zonder de noodzaak van configuratie. De kit voldoet tevens aan allerlei IP netwerk protocols. Verder laten de diagnose LEDs op het front paneel de werking status van de individuele poort en van het hele systeem zien, hierdoor kan de beheerder efficient het netwerk managen.