Meer dan een Fiber Media Converter – ook een Power over Ethernet Injector
De beste data verbinding en voeding oplossing voor long reach netwerk apparatuur
PLANET FTP-802 is ideaal voor het plaatsen van netwerk apparatuur op afstand door gebruik te maken an twee netwerk technologiën:
■ Media Conversion : 100Base-FX naar 10/100Base-TX
■ Power over Ethernet : Power Sourcing Equipment (PSE), PoE Injector
Door het leveren van zowel PoE en een fiber-optische inface, is de FTP-802 ideal voor service proveders, campussen en publieke ruimtes die PoE nodig hebben voor wireless access points, IP-based bewakingscamera's of IP telefoons eenvoudig, efficient en kosten effectief op elke plek.
PoE Optimizes the Installation and Power Management of Network Devices
The IEEE 802.3af capabilities of the FTP-80x reduce installation costs for many new network productivity devices. As an IEEE 802.3af Power over Ethernet Injector, the FTP-80x provides DC 48V voltage over Ethernet cables. It allows the twisted pair cable between the FTP-80x and IEEE 802.3af compliant PD (Powered Device) or PoE Splitter (such as POE-151S-5V / 12V) to transfer data and power simultaneously.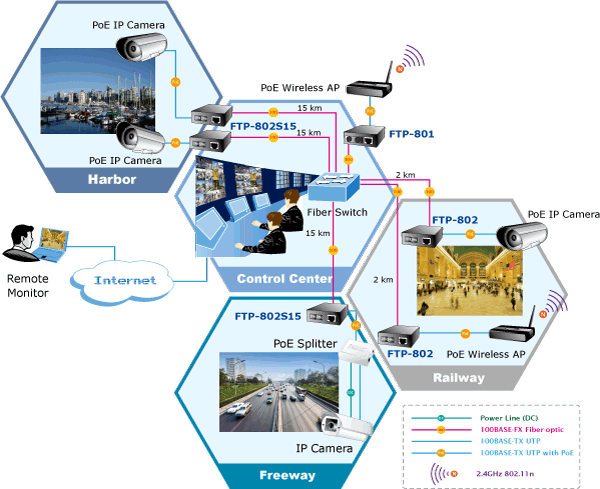 Fiber-optic Link Capability Extends the Range of Network Deployments 
The maximum distance from the PoE PSE and PD is 100 meters. To extend the deployment range of network device, the FTP-80x is integrated with fiber interface. The FTP-80x PoE Media Converters are used to convert optical Ethernet signal to electrical Ethernet signal that allows two type of segments to connect easily, efficiently and inexpensively. It can convert 10/100Base-TX signal to 100Base-FX signal and provides the diverse fiber connecting types of options to meet different network applications. By selecting models, the maximum networking distance can extend to as long as 15 kilometers and still sustain the transmission performance as high as 100Mbps. It works in high performance of Store and Forward mechanism and if also can prevent packet loss with IEEE 802.3x flow control (full-duplex). With the LFP (Link Fault Pass-through function),(LLCF / LLR) and the DIP switch design, it can immediately alarm administrators problems of the link media and provide efficient solution to monitoring the net. The DIP switch provides the disabling or enabling of the LFP function.
Advantage of Combined PoE and Media Conversion
With the data, long reach fiber capability and PoE from one unit, the FTP-80x will reduce cables and eliminate the need for dedicated electrical outlets on the wall, ceiling or any unreachable place. It frees the security IP camera and wireless AP deployment from restrictions due to power outlet locations. Power and data switching are integrated into one unit and delivered over a single cable, eliminating costs for additional AC wiring and reducing installation time.
The IEEE 802.3af Equipment Installation
The FTP-80X provides the easiest way to power your Ethernet devices such as PLANET IEEE 802.3af Power over Ethernet Splitter (POE-151S / 152S) with non PoE Internet camera or wireless PoE access point (IAP-2000PE). For instance, security IP camera, wireless access point and other IEEE 802.3af compliant network equipment can be easily installed around corners in public areas such as stations or freeways for surveillance demands, or wireless roaming environment in campuses or airports can be set up.