Deze unit wordt niet meer geproduceerd.
Prijstechnisch interessante Gigabit Oplossing voor SOHO en Afdelingsnetwerken
De PLANET GSD-1603 Gigabit Ethernet Switch biedt 16 RJ45 10/100/1000Mbps poorten voor high-speed netwerk connectiviteit. De switch kan automatisch de geschikte transmissie snelheid en half/full duplex mode bepalen van de aangesloten apparatuur met zijn 16 gigabit poorten die 9K jumbo frame ondersteunt. Hierdoor kan de GSD-1603 extreem grote hoeveelheden data transmissie verwerken in een veilige topologie verbonden met een backbone of high-power servers.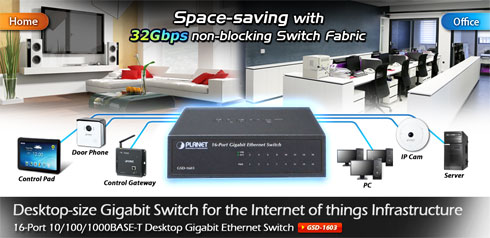 Energie Besparing
De GSD-1603 bezit twee geavanceerde green networking technologiën en is in staat een energiebasparing te realiseren tot wel 40% minder energie zonder op zijn hoge prestaties in te boeten.
(1) Hibernation Link Down energie besparing
De Hibernation Link Down energie besparing gaat veel verder dan de IEEE specificaties door de voeding naar een bepaalde poort die niet is gelinkt te verlagen. Met de Hibernation Link energie besparingstechnologie zal de GSD-1603 automatisch het verbruik aanpassing van poorten die afgeschakeld zijn of niet verbonden zijn met een netwerk apparaat. 
(2) Intelligente aanpassing van vermogen gebaseerd op kabel lengte
Intelligente aanpassing van het vermogen, de andere toegepast technologie, is een intelligent algorithme dat het benodigde vermogen bepaald op basis van kabellengte. Als de GSD-1603 verbonden is met een kabel korter van 20m kan het apparaat een maximale besparing behalen doordat de GSD deze lengte automotisch detecteert en het verbruik daarop aanpast. Het aangesloten apparataat kan het overall energie verbruik substantieel verminderen en zo een flinke energiebesparing realiseren.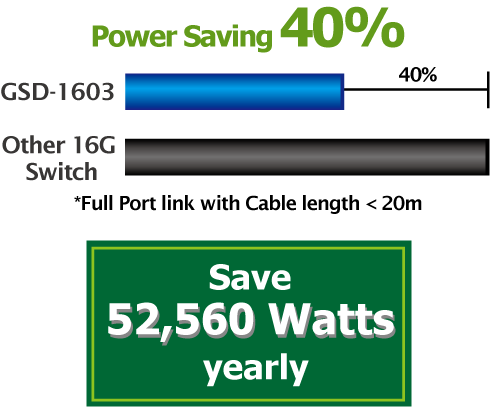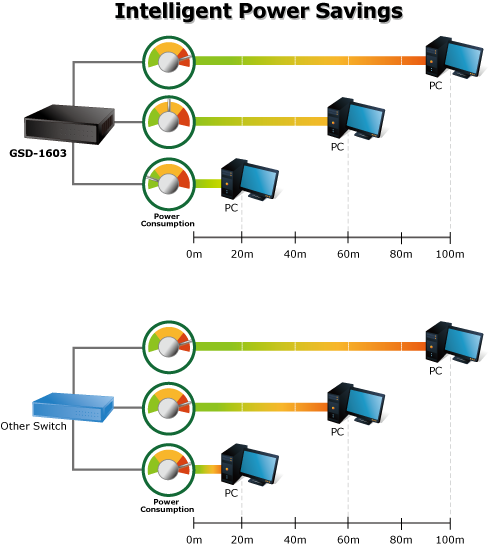 Stabiele en High Performance Switch Architectuur
De  GSD-1603 heeft een 8K MAC address table, met een high performance switch architectuur in staat om non-blocking 32Gbps switch fabric te leveren en een wire-speed throughput tot wel 23.8Mpps, dit vereenvoudigd het upgraden van de LAN voor een grotere bandbreedte enorm. Daarnaast maakt de 802.3x full-duplex flow control functie van de GSD-1603 het mogelijk routers en servers direct te verbinden met de switch woor wire-speed packet transfer prestaties zonder het risico van packet loss.
Flexibel Desktop Formaat en Fanless Ontwerp
De GSD-1603 heeft een compacte metalen behuizing waardoor hij in een beperkte ruimte past. Doordat de switch compact is ontworpen zonder ventilatoren en geluid kan hij perfect worden toegepast in elke denkbare kantoor thuis omgeving.
Plug & Play
Alle RJ45 koper interfaces van de GSD-1603 ondersteunen 10/100/1000Mbps auto-negotiation voor een optimale snelheid detectie bij RJ45 Categorie 5, 5e of 6 kabels. Ze ondersteunen standaard de auto-MDI/MDI-X feature die het type connectie van elk Ethernet apparaat kan detecteren zonder daarvoor speciale straight-through of crossover kabels te gebruiken.