Een Gigabit oplossing met een geweldige prijs/kwaliteit verhouding voor Bedrijven backbone en datacenter netwerken.
De Planet GSW-2401 biedt 24 RJ-45 10/100/1000Mbps poorten voor high speed netwerk connectie. De switch detecteert en identificeert automatisch de juiste transmissie snelheid en half / full duplex mode van de aangesloten 24 gigabit poorten.
Hoge Prestaties
De GSW-2401 biedt een Hoge Prestatie Switch architectuur die in staat is om de non-blocking switch en wire-speed throughput tot 32Gbps te leveren, die de taak van het upgraden van de LAN voor het geschikt maken voor groeiende bandbreedte eissen enorm vereenvoudigd. Daarnaast maakt de Flow Control functie van de GSW-2401 het voor routers en serves mogelijk om direct met de switch te verbinden voor snelle en betrouwbare data transfer.
Alle RJ-45 koper interfaces van de GSW-2401 ondersteunen 10/100/1000Mbps auto-negotiation voor optimale snelheid detectie door RJ-45 categorie 6, 5 of 5e kabels. Ook ondersteunt de unit standaards voor auto-MDI/MDI-X die het type verbinding kunnen detecteren voor elk Ethernet Device zonder daarvoor een speciale Straight of Crossover kabel nodig te hebben.
Excellente Traffic Transmissie
De GSW-2401 ondersteunt Store-and-Forward forwarding schema's om een lage latency en hoge data integriteit te verzekeren, die onnodige verkeers elimineert en opstoppingen op kritische netwerk paden oplost. Met een intelligent adres herkennings algorithme, kan de GSW-2401 tot 8K verschillende MAC adressen herkennen. De hoge data throughput en 32Gb interne switching fabric maakt hem ideaal voor de meeste Gigabit omgevingen, speciaal bij netwerk upgrades naar een Gigabit omgeving.
Backbone Switch
Met tot 32 Gigabit per seconde non-blocking switch fabric, kan de GSW-2401 eenvoudig de hoge bandbreedte leveren die nu en in de toekomst nodig zijn.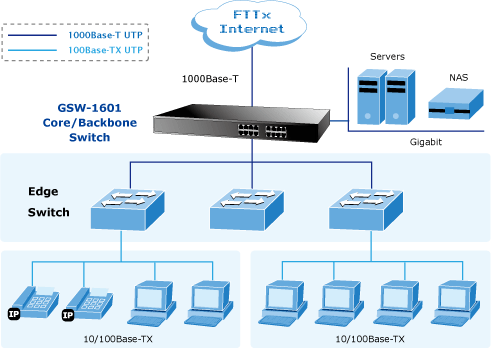 Server Farm Switch
Door de 24 Gigabit Ethernet porten, is de GSW-2401 ideaal om te worden gebruikt als een server farm Switch om uw servers en krachtige desktops te verbinden.