De PLANET IGS-5225-16T4S, is een nieuwe industriële Layer 2+ managed Gigabit Switch, de switch biedt 16 10/100/1000Mbps poorten en 4 100/1000X SFP poorten en ondersteunt static Layer 3 routing in een 1U behuizing. Met een totale switch fabric van 40Gbps, kan de IGS-5225-16T4S grote hoeveelheden data verwerken in een veilige topologie verbonden met een industriële backbone of high capacity servers. De IGS-5225-16T4S is in staat non-blocking switch fabric en wire-speed doorvoer te leveren in een temperature range van -40 tot 75 graden C zonder enig pakket verlies en CRC fouten. Het vereenvoudigd het upgraden van de industriële LAN zeer om aan de behoefte te voldoen an toenemende bandbreedte. Daarnaast biedt de unit een gebruikers vriendelijk "Front Access" ontwerp voor eenvoudige bekabeling en onderhoud van de IGS-5225-16T4S wanneer geplaatst in een omkasting.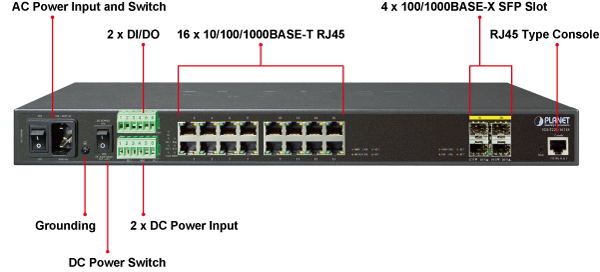 AC en DC Redundante Voeding om Beschikbaarheid te Waarborgen
De IGS-5225-16T4S is uitgevoerd met een 100~240V AC voeding en een dubbele 36~60V DC voeding, toegepast als redundante voeding om de beschikbaarheid van de switch te waarborgen. Het redundante voedingssysteem is specifiek ontworpen om te voldoen aan de wensen van high-tech faciliteiten die de hoogste voeding beschikbaar moeten hebben. Daarnaast kan de IGS-5225-16T4S met de dubbele 36-60V DC voeding worden toegepast als telecom niveau unit en geplaatst worden in nagenoeg iedere zware omgeving.
Digitale Input en Digitale Output voor Externe Alarmering
Om de netwerk beheerder te helpen onverwachte netwerk situaties te managen levert de IGS-5225-16T4S op het "Front paneel" Digitale Input en Digitale Output voor externe alarmering apparatuur. The Digital Input can be used to detect and log the status of the external devices such as door intrusion detector. De Digitale Output kan gebruikt worden om een alarm te genereren wanneer de IGS-5225-16T4S een port link-down of een power failure heeft.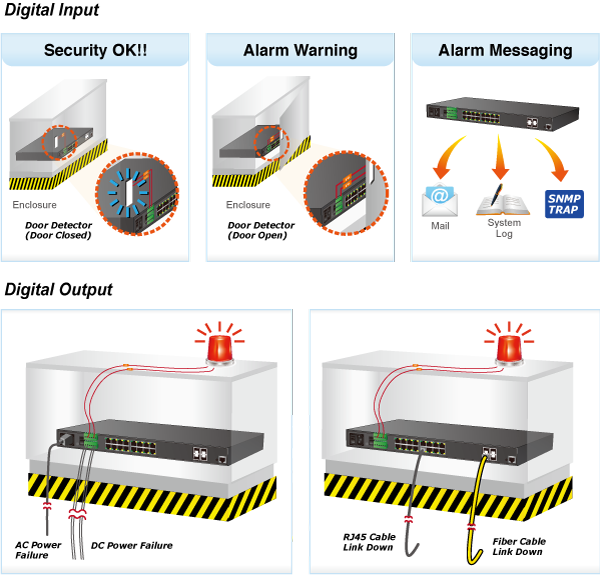 Effectieve Alarm Meldingen voor Betere Bescherming
De IGS-5225-16T4S ondersteunt een Fout Melding optie die gebruikers kan waarschuwen wanneer er iets mis is met de switches. Met deze ideale mogelijkheid hoeven gebruikers geen tijd te verspillen met het zoeken naar het probleem, het helpt geld en manuren te besparen.

IPv6/IPv4 Dual Stack
Door zowel IPv6 en IPv4 protocollen te ondersteunen, helpt de IGS-5225-16T4S data centers, campuses, telecoms, en meer het IPv6 tijdperk te ervaren tegen de laagste investeringen daar de netwerk faciliteiten niet vervangen hoeven te worden geupdate als het IPv6 FTTx edge netwerk opgezet is.
Layer 3 IPv4 en IPv6 VLAN Routing voor Velig en Flexibel Management
De IGS-5225-16T4S biedt IPv4/IPv6 VLAN routing optie die het mogelijk maakt verschillende VLANs en verschillende IP aressen te kruisen (crossover) teneinde een zeer veilig, flexibel management en simpele netwerkapplicatie te verkrijgen.
Robuuste Layer 2 Mogelijkheden
De Switch kan worden geprogrammeerd voor geavanceerde switch management functiies zoals dynamic port link aggregation, Q-in-Q VLAN, private VLAN, Multiple Spanning Tree Protocol (MSTP), Layer 2 naar Layer 4 QoS, bandbreedte controle en IGMP/MLD Snooping. Via de link aggregation van ondersteunde poorten maakt de IGS-5225-16T4S het gebruik van een high-speed trunk mogelijk om te combineren met meerdere fiber poorten en ondersteund tevens fail-over.

Powerful Security
The IGS-5225-16T4S offers a comprehensive layer 2 to layer 4 Access Control List (ACL) for enforcing security to the edge. It can be used to restrict network access by denying packets based on source and destination IP address, TCP/UDP ports or defined typical network applications. Its protection mechanism also comprises 802.1X Port-based and MAC-based user, and device authentication. With the private VLAN function, communication between edge ports can be prevented to ensure user privacy. The IGS-5225-16T4S also provides DHCP Snooping, IP Source Guard and Dynamic ARP Inspection functions to prevent IP snooping from attack and discard ARP packets with invalid MAC address. The network administrators can now construct highly-secure corporate networks with considerably less time and effort than before.
Excellent Traffic Control
The IGS-5225-16T4S is loaded with powerful traffic management and QoS features to enhance connection services by telecoms and ISPs. The QoS features include wire-speed Layer 4 traffic classifiers and bandwidth limit that are particularly useful for multi-tenant units, multi-business units, Telco and network service providers' applications. It also empowers the industrial environment to take full advantage of the limited network resources and guarantees the best performance in VoIP and video conferencing transmission.
Efficient and Secure Management
With built-in Web-based management interface, the IGS-5225-16T4S L2+ Managed Switch offers an easy-to-use, platform-independent management and configuration facility which includes Console, Web and SNMP management interfaces. The SNMP can be managed via any management software based on the standard of SNMP Protocol. For reducing product learning time, it offers Cisco-like command via Telnet or console port and customer does not need to learn new console command. Moreover, it also offers secure remote management by supporting SSH, SSL and SNMP v3 connections which encrypt the packet content at each session.

Flexibility and Extension Solution
The four mini-GBIC slots built in the IGS-5225-16T4S support dual speed as it features 100BASE-FX and 1000BASE-SX/LX SFP (Small Form-factor Pluggable) fiber-optic modules. Now the administrator can flexibly choose the suitable SFP transceiver according to not only the transmission distance, but also the transmission speed required. The distance can be extended from 550 meters to 2km (multi-mode fiber) or up to 10/20/30/40/50/70/120 kilometers (single-mode fiber or WDM fiber). They are well suited for applications within the industrial data centers and distributions.
Intelligent SFP Diagnosis Mechanism
The IGS-5225-16T4S supports SFP-DDM (Digital Diagnostic Monitor) function that greatly helps network administrator to easily monitor real-time parameters of the SFP, such as optical output power, optical input power, temperature, laser bias current, and transceiver supply voltage.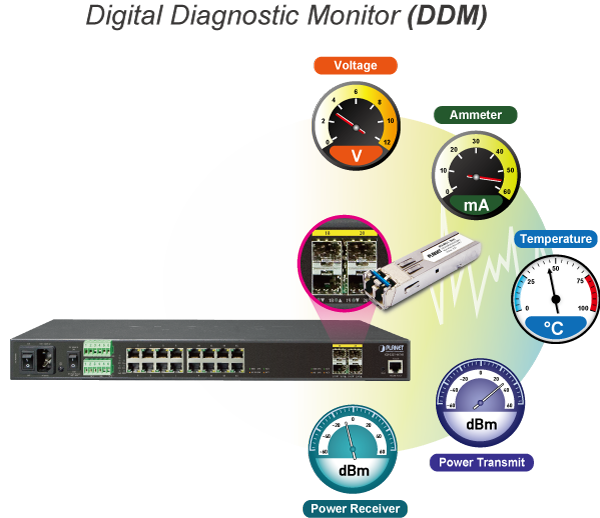 Redundant Ring, Fast Recovery for Critical Network Applications
The IGS-5225-16T4S supports redundant ring technology and features strong, rapid self-recovery capability to prevent interruptions and external intrusions. It incorporates advanced ITU-T G.8032 ERPS (Ethernet Ring Protection Switching) technology, Spanning Tree Protocol (802.1s MSTP), and redundant power input system into customer's industrial automation network to enhance system reliability and uptime in harsh factory environments. In a certain, simple Ring network, the recovery time of data link can be as fast as 20ms.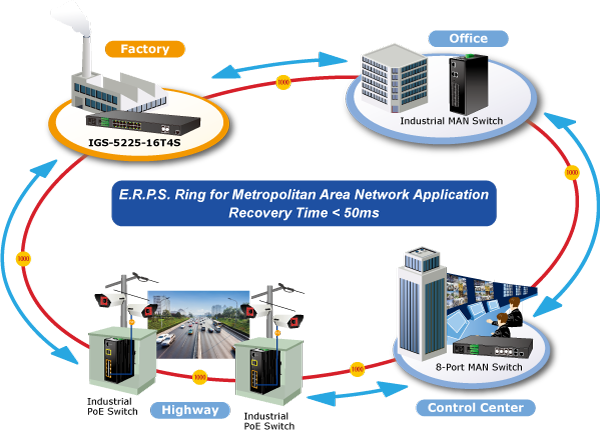 Layer 3 VLAN Routing Application
With the built-in, robust Layer 3 routing protocols, the IGS-5225-16T4S ensures reliable routing between VLANs and network segments. The routing protocols can be applied by VLAN interface with up to 32 routing entries. The IGS-5225-16T4S, certainly an ideal solution for industries, offers greater security, control and bandwidth conservation, and high-speed uplink.