Grote Afstand High Power PoE en Gigabit Data Extentie Oplossing 
De PLANET IGS-624HPT is een Industriële Gigabit 802.3at PoE+ Switch die non-blocking wire-speed prestaties en grote flexibiliteit levert voor Gigabit Ethernet extenstie in zware industriële omgeveingen Het biedt 4-poort 10/100/1000Base-T koper met 802.3af/at PoE injector en 2 extra 100/1000Base-X SFP fiber optic interfaces geplaatst in een IP30 robuuste sterke behuizing met een redundant power systeem. De IGS-624HPT is goed geschikt voor toepassingen in het plaatsen van bewakingssystemen en beveiligingscontrole en draadloze service in klimatologisch veeleisende omgevingen met een wijde temperatuur range van -40 tot 75 graden C.
High Power PoE voor Beveiliging en Publieke Sector Toepassingen 
Om te voldoen aan de vraag naar High Power PoE voor netwerk applicaties is de IGS-624HPT uitgevoerd met 4 10/100/1000Mbps poorten die zowel IEEE 802.3af als ook  IEEE 802.3at Power over Ethernet Plus (PoE+) leveren die tot to 30-watt power output en data per poort over een Cat.5E / 6 Ethernet kabel. Met een uitgangsvermogen van 120-watt PoE totaal is de IGS-624HPT speciaal ontworpen om aan de groeiende vraag naar hogere vermogens voor de PD's (Powered devices) te voldoen zoals bijvoorbeeld PTZ (Pan, Tilt & Zoom) / Speed Dome netwerk camera's, multi-channel (802.11a / b / g / n) outdoor wireless LAN access points en andere PoE network devices door het leveren van het dubbele vermogen ten opzichte van de conventionele 802.3af PoE.
Intelligente LED Indicator voor Real-time PoE Verbruik 
De IGS-624HPT helpt gebruikers de status van PoE verbruik te monitoren op een eenvoudige en efficiënte manier door gebruik te maken van de geavanceerde LED indicatoren,  genaamd "PoE Power Usage", het frontpaneel van de Industriële Gigabit PoE+ Switch heeft vier oranje LEDs die 30W, 60W, 90W en 120W aangeven van PoE power verbruik.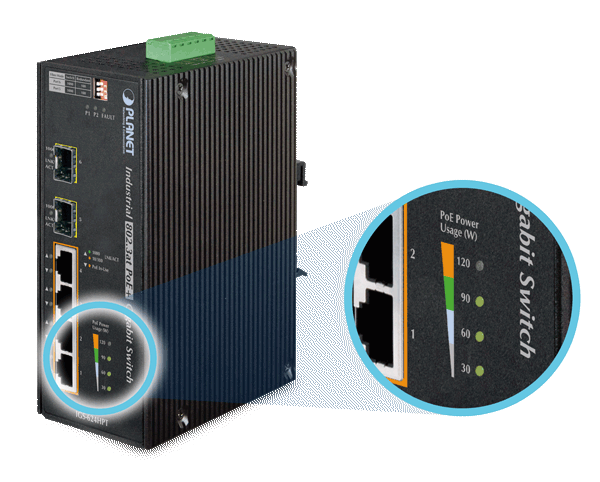 Passen en Betrouwbaar Power Systeem
Om het 802.3at High Power PoE gebruik met de gebruikelijke 48V DC power input in transport en industriële toepassingen mogelijk te maken, is de IGS-624HPT uitgevoerd met 48V DC naar 52V DC power boost technologie om power source problemen op te lossen om het High Power PoE+ uitgang niveau te behalen. Om de betrouwbaarheid en flexibiliteit van de IGS-624HPT nog verder te verhogen is deze uitgevoerd met twee DC power input connectoren voor redundant power supply installatie.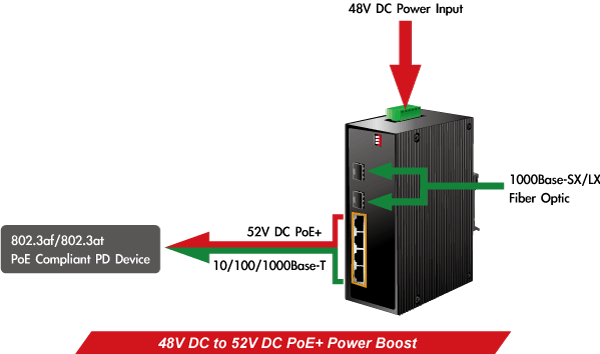 High Power Budget voor PoE Extentie 
Met het 30-watt PoE uitgang vermogen, is de IGS-624HPT in staat over veel grotere afstanden te functioneren door het gebruik van PLANET PoE Extenders om IEEE 802.3af PoE PD systemen te voeden die geïnstalleerd kunnen worden op een afstand van meer dan 100 meter. Door het "daisy-chaining" van meerdere PLANET PoE Extenders, biedt de switch grote flexibiliteit in het verdubbelen, verdrievoudigen of verviervoudigen van de afstand van een PoE Netwerk.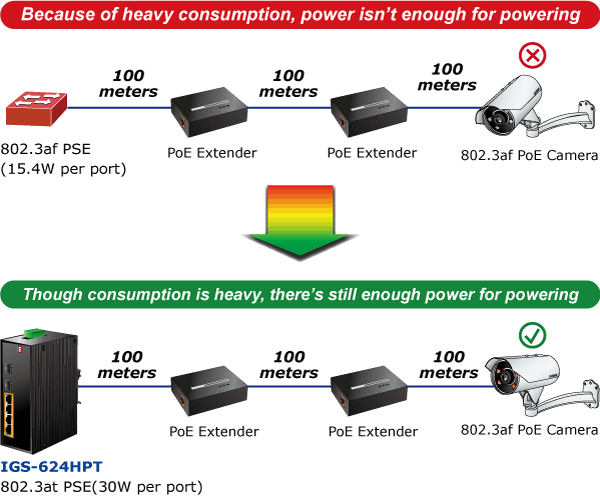 Gehard ontwerp voor zware Omgevingscondities 
De IGS-624HPT is uitgerust met een robuuste IP30 metalen behuizing zodat deze eenvoudig toegepast kan worden in zware industriële omgevingen. Met de IP30 industriële beschermende behuizing is de IGS-624HPT afgeschermd tegen elektromagnetische interferrentie en zware elektrische pieken die men vaak aantreft op de bedrijfsvloer of in de verkeerskasten aan de kant van de weg. Daar de IGS-624HPT in staat is om in een omgevingstermperatuurrange van -40 tot 75 graden C kan hij worden ingezet in moeilijke omgevingen. De IGS-624HPT kan op DIN-rail of aan de wand bevestigd worden om ruimte te besparen. 
Mogelijkheid voor Fiber-Optical Link Vergroot de Afstand van het Uitrollen van het Netwerk 
De twee SFP slots zijn compatible met 100Base-FX of 1000Base-SX / LX / WDM door SFP (Small Form Factor Pluggable) fiber-optic transceivers. De fiber optical uplink mogelijkheid garandeert de doorvoer naar alle nodes gekoppeld in het netwerk en de Gigabit Ethernet afstand kan verlengt worden van 550 meter (Multi-Mode fiber cable) tot wel 10/20/30/40/50/70/120 kilometer (Single-Mode fiber or WDM fiber).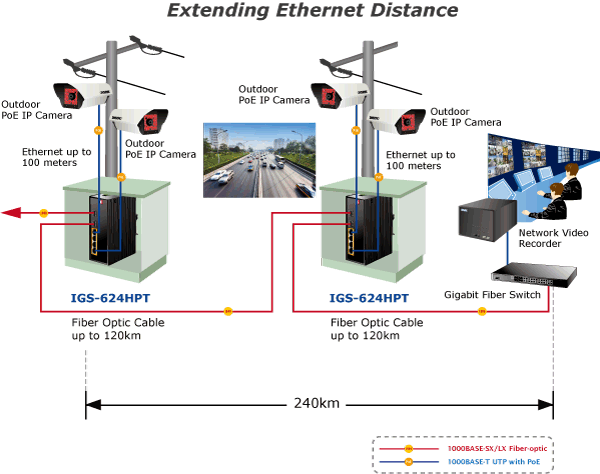 Instelbare 6-Poort Switch Mode of  4 + 2 Fiber Redundante Mode
Via de ingebouwde DIP switch kan de IGS-624HPT worden geconfigureerd al een 6-poort Ethernet switch of een 4+2 fiber redundant switch. Met de 6-poort switch mode, kan de IGS-624HPT werken in een "Store-and-Forward" mechanisme met hoge prestaties; aan de andere kant, in de 4+2 fiber redundant mode, biedt het een snelle fiber redundancy link voor zeer kritische Ethernet applicaties. De redundant mode ondersteunt tevens de auto-recovering functie. Indien de bestemmingspoort van een pakket link down is dan wordt het pakket geforward naar de andere poort van het backup paar.