Slim Type met veel Praktische en Gemakkelijke Toepassingen
De PLANET ISW-801T, een Industrial 8-poort Fast Ethernet Switch, biedt non-blocking wire-speed prestaties in een zware industriële omgeving. Hij levert tevens 8-poort 10/100BASE-TX RJ45 koper interfaces vanuit een sterke robuuste IP30 behuizing met een redundante voeding. De smalle behuizing is geschikt voor toepassingen zoals beveiligingssystemen, controle managemen en draadloze service in klimatologisch veeleisende omgevingen met een wijd temperatuursbereik van -40 tot 75 graden C.
Energie Besparing door Lager Verbruik
Door de toepassing van de geavanceerde green networking technologie levert de ISW-801T de op hetIEEE 802.3az protocol gebaseerde energie besparing. Deze eigenschap zorgt ervoor dat de ISW-801T in full load operation mode weining energie verbruikt, waardoor er energie wordt bespaard terwijl er toch een hoge prestatie efficientie wordt behaald.
Stabiele Prestaties onder Zware Omstandigheden
De ISW-801T levert een hoge mate van immuniteit tegen elektromagnetische interferentie en zware elektrische spykes en dips die regelmatig voorkomen op de fabrieksvloer of in verkeers controle kasten aan de kant van de weg. Doordat hij kan werken binnen een temperatuurrange van -40 tot 75 graden C, kan de ISW-801T in bijna elke moeilijke omgeving toegepast worden. De ISW-801T bezit tevens een geïntegreerde voeding met een wijd spanningsbereik (12 tot 48V DC, 24V AC) voor wereldwijde hoge beschikbaarheid applicaties die een dubbele of backup voedingsinput nodig hebben.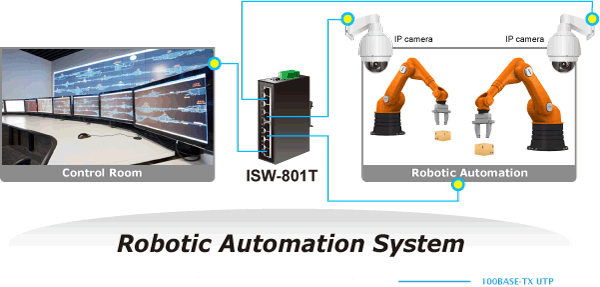 Robuuste Switch Prestaties
Ingebouwd in een high-performance switch architectuur, is de ISW-801T uitgevoerd met acht 10/100Mbps Fast Ethernet poorten die non-blocking switch fabric en wire-speed throughput tot wel 1.6Gbps en het 1K MAC address leveren. Hierdoor kan de ISW-801T wire-speed packets verzenden zonder het risico van packets loss. De flow control functie maakt het de ISW-801T mogelijk snel en betrouwbaar data te switchen.
Alle RJ45 koper interfaces in de ISW-801T ondersteunen10/100Mbps auto negotiation voor optimale detectie van de snelheid door RJ45 Category 5 of 5e kabels. De standaard auto-MDI/MDI-X ondersteuning kan het type verbinding met elk Ethernet apparaat detecteren zonder daarvoor een straight-through of crossover kabel nodig te hebben.