PLANET Technology Long Reach PoE Oplossing biedt alle bedrijven en netwerk service providers de mogelijkheid om een IP infrastructuur op te bouwen in een remote locatie waar 802.3af/at PoE compatibele apparaten zowel data als power kunnen ontvangen via Planet switches en Planet LRP extenders en injectoren over een grote afstand, niet gelimiteerd door 100 meter. 
Data en Power Verzonden over Grote Afstanden
De PLANET LRP-101CE, een PLANET Long Reach PoE oplossing, is een enkel-poorts 802.3at PoE+ Extender die is geïnstalleerd op een remote locatie en die met een PoE IP camera of PoE draadloos AP verbinden. De LRP-101CE moet samenwerken met de PLANET enkel-poort Long Reach PoE Injector of met de Multiple-channel Long Reach PoE Switch om in staat te zijn om zowel data als power naar een PD over een afstand tot wel 1000 meter middels een coax kabel te verzenden. De LRP-101CE levert maximaal 25 Watt uitgangsvermogen over Ethernet kabel naar een remote PoE IP camera, PoE draadloos AP of toegangscontrole systemen compatibel met de 802.3af/at PoE.
– Point to Point installatie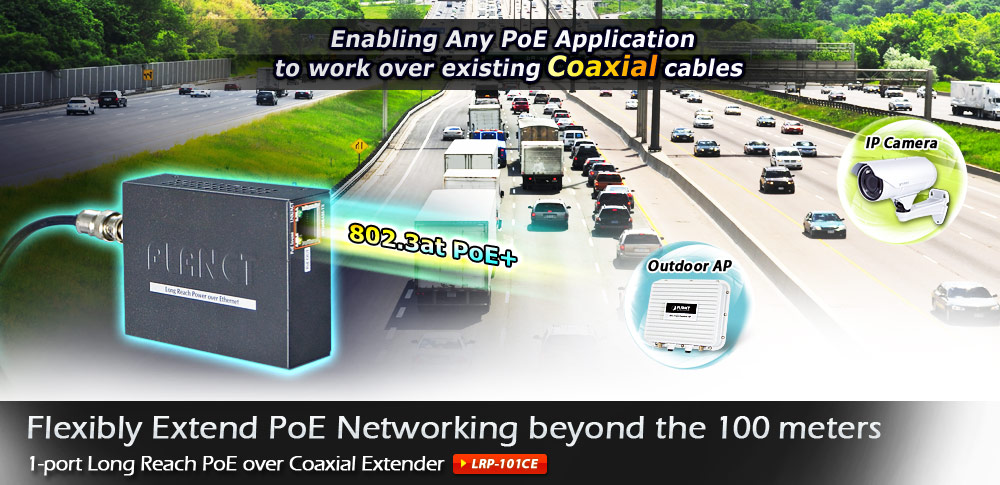 – Single Chain, Multi-point Installatie
– Point to Multipoint Installatie
Daisy-chaining Multiple Nodes
PLANET Long Reach PoE oplossing kan eenvoudig een power systeem bouwen voor centraal gecontroleerde IP camera's in een 'hoog beschikbaarheid' netwerk infrastructuur. Het biedt de gebruikers de flexibiliteit, small area networks met BNC-T uit te breiden om vier nodes per poort te delen wanneer nodig.
IP Ethernet en Power over Lange Bestaande Coax Kabel
En gewone UTP kabel kan tot slechts 100 metere gebruikt worden, echter met de LRP-101CE, werkend met de LRP injector of de LRP Switch kan het PoE netwerken uitgebreid worden tot 1,000 meters over 75 ohm coax kabel met een stabiele, hoge kwaliteit video transmissie. Het elimineert de noodzaak voor additionele wandcontactdozen daar de enkel voedingsbron power kan leveren over grote afstand via de LRP-101CE.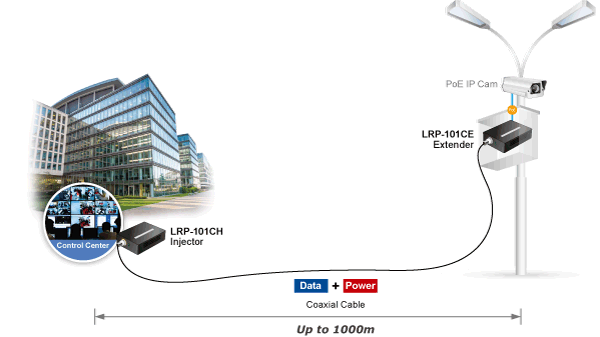 Stabiele Operatie Prestaties onder Zware Omstandigheden
PLANET Long Reach PoE Extenders zijn de perfecte oplossing om data en power transmissie voor loodsen, parkeerplaatsen, campus, casinos en vele andere toepassingen te verlengen. Hij kan stabiel werken bij temperaturen van -20 tot 70 graden C wat er voor zorgt dat de unit in bijna iedere omgeving toegepast kan worden. Zonder het probleem van een power voeding maakt het de installatie van remote PoE gevoedde apparaten eenvoudiger en efficiënter.
Plug-n-play Installatie
Door de plug and play eigenschap kan de LRP-101CE direct toegepast worden zonder de noodzaak van configuratie en is hij teven compatibel met alle soorten IP netwerk protocollen. Wanneer er een netwerk onderbreking is dan kan deze opnieuw verbonden worden binnen 5 seconden. Meer zelfs, de diagnose LED's op het frontpaneel latende status van de individuele poort en het gehele systeem zien, waardoor de administrator het netwerk efficiënt kan managen.
Gezamelijk werken als een Kit
Samenwerkend als een set met de PLANET LRP-101CH Long Reach PoE Injector, gevoed door een externe voedingsadapter of een PoE+ Ethernet switch, gaat de  LRP-101CE's 802.3at standaard PoE output naar bijv. een  PoE PD. De LRP-101-C-KIT, bestaande uit de LRP-101CH en de LRP-101CE, kan breed ingezet worden in Intelligente Transport Systemen (ITS), verkeers regeling, beveiliging, automatiserings controle, home automation en zo voort.
De LRP-101C-KIT kan in twee verschillende combinaties functioneren:
1: LRP-101CH met PoE power input en LRP-101CE met PoE power output
2: De LRP-101CH injector, gevoed door IEEE 802.3at/af PoE bron, zendt data en power over coax kabel naar de LRP-101CE extender. Een IEEE 802.3at/af compatibel PoE PD zal dan automatisch worden gevoed door de LRP-101CE over UTP bekabeling.

Power Input

RJ45 with 802.3at/af PoE input

BNC with DC power over coaxial input

Power Output

BNC with DC power over coaxial output

RJ45 with 802.3at/af PoE output