"Plug and Watch" eenvoudigweg voor een Snelle Oplossing
De PLANET FGSW-2022VHP is een ideale "Plug and Watch" Power over Ethernet oplossing die een snelle installatie biedt, real-time PoE werk status monitoring en onmiddelijke troubleshooting door middel van het unieke LCD display die de werk efficiency en kwaliteit verbeterd zonder dat er een PC of software aan te pas moet komen.
De FGSW-2022VHP is uitgerust met 12 10/100BASE-TX poorten die 802.3at Power over Ethernet Plus (PoE+) koper interfaces bieden en 4 10/100BASE-TX poorten met 802.3bt PoE++ koper interfaces. Met een totaal PoE power budget van maximaal 300 Watt en non-blocking data switching prestaties, vervult de FGSW-2022VHP de wens voor voldoende PoE power voor HD IP surveillance. De unit biedt een desktop-sized, betrouwbare en zichtbare power oplossing voor kleine bedrijven en systeem integrators die Power over Ethernet netwerken aanleggen.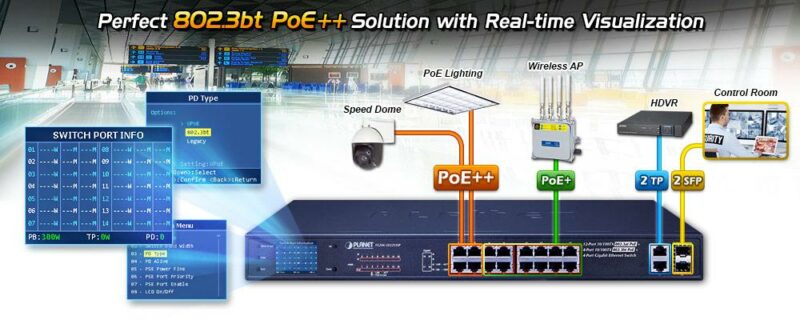 Slimme en Intuïtieve LCD bediening
De FGSW-2022VHP bezit een intuïtief bedieningspaneel op de voorzijde die Ethernet en POE PD management biedt. De efficiency in grotere netwerken zoals voor grote ondernemingen, hotels, winkelcentra, rijksgebouwen en andere publieke ruimten wordt enorm verbeterd. De LCD bediening biedt de volgende speciale management en status functies:
PoE management en status
Poort management en status
Switch mode inclusief Standaard, VLAN of Extend
PD type: 802.3bt, UPoE, Legacy
Budget en bandbreedte controle
PD alive controle
Screen saver, fan controle en factory default
Beveiligingswachtwoord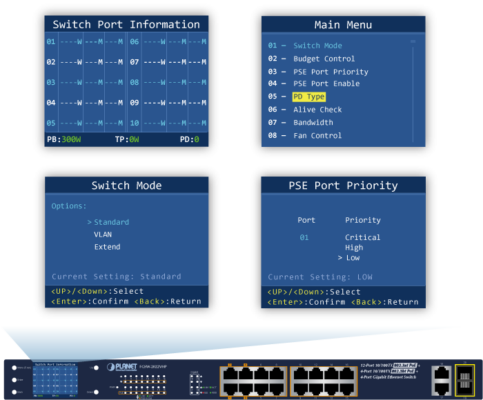 Standaard, VLAN of Extend Werking Mode
De FGSW-2022VHP levert Standaard, VLAN of Extend Werking mode. De FGSW-2022VHP werkt als een normale IEEE 802.3at/bt PoE switch in de Standaard werkings mode.

De VLAN werkings mode biedt de port-based VLAN functie die kan helpen om te voorkomen dat de IP camera's multicast of broadcast storm elkaar beïnvloeden.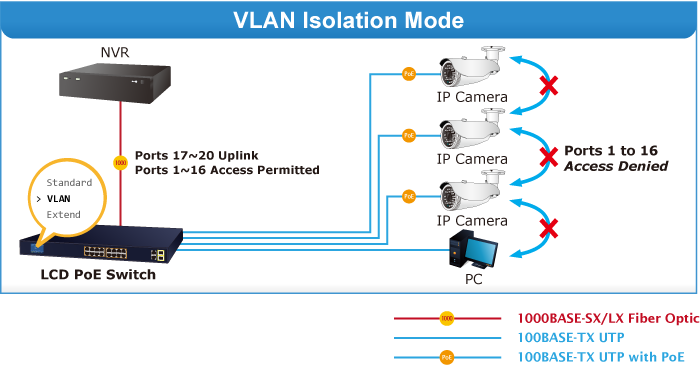 In de Extend werkings mode, werkt de FGSW-2022VHP op een per-port basis in 10Mbps duplex werking maar kan een PoE power output leveren over een afstand van wel 250 meter, en dus de 100 meter limiet overbruggend met een Ethernet UTP kabel. Met deze gloednieuwe feature levert de FGSW-2022VHP een additionele oplossing voor 802.3at/bt PoE afstandsuitbreiding, hierdoor worden dus kosten bespaard op Ethernet Kabel installatie. De VLAN isolatie functie isoleert poorten om zo broadcast storm te voorkomen en te beschermen tegen DHCP spoofing in de Extend werkings mode.

Flexibele Extentie Oplossing
De twee in de FGSW-2022VHP ingebouwde mini-GBIC slots zijn compatibel met de 1000BASE-X SFP (small form-factor pluggable) fiber transceiver, uplinked naar de backbone switch en het monitoring center over grote afstand. De afstand kan uitgebreid worden van 550 meter (multi-mode fiber) naar 10/20/40/80/120 kilometer (single-mode fiber of WDM fiber). Ze zijn geschikt voor toepassing in de datacenters van grote organisaties en distributors.
Robuuste Bescherming
De FGSW-2022VHP biedt een contact ontlading van ±6KV DC en een lucht ontlading van ±8KV DC voor Ethernet ESD afscherming. De unit ondersteund tevens ±6KV piekbescherming om de productstabiliteit te verbeteren en het netwerk van de gebruikers te beschermen tegen katastrofale ESD aanvallen, door er voor te zorgen dat de operatie niet fluctueert.
Eenvoudige Installatie en Kabel Verbinding
Daar data en power over dezelfde kabel worden verstuurd, heeft de FGSW-2022VHP geen tweede kabel en stopcontact nodig in muur, plafond of andere slecht bereikbare plekken. Hierdoor draagt hij bij aan het verlagen van de installatiekosten en benodigde installatiewerkzaamheden. Alle RJ45 koper interfaces van de FGSW-2022VHP ondersteunen 10/100Mbps auto-negotiation voor optimale speed detection door RJ45 Cat. 5e/6 kabel. Hij ondersteunt tevens standaard auto-MDI/MDI-X die het type connectie kan detecteren bij elk ethernet apparaat zonder speciale straight-through of crossover kabels te benodigen.