Gecentraliseerde Power Distributie voor HD IP bewakings systeem oplossingen
De Planet GSD-604HP biedt vier 802.3at POE+ poorten voor toepassing met klein formaat
IP bewakingsnetwerken tegen lage totale kosten. Met Dual 10/100/1000BASE-T
uplink poorten kunnen de opgenomen HD video bestanden van de vier door de GSD-604HP gevoedde
IP Camera's opgeslagen worden in het 4-kanaals NVR systeem of beveiligingssoftware, om
uitgebreide beveiligingsbewaking en mangement van het bewakingssysteem uit te voeren
binnen het lokale LAN of op afstand via het internet.
De geavanceerde eigenschappen van de GSD-604HP bestaan o.a. uit:
 ■ 4-poort PoE+, 55-watt PoE budget
 ■ Twee 10/100/1000Mbps uplink poorten
 ■ Poort-based VLAN en Loop Protection eigenschappen
 ■ compact formaat, ventilatorloos ontwerp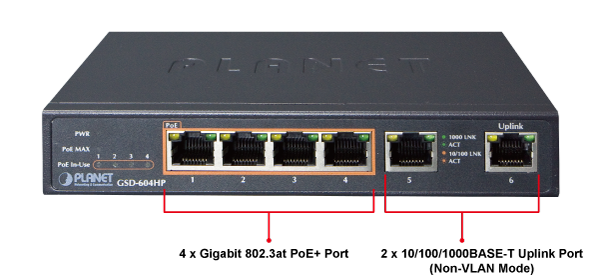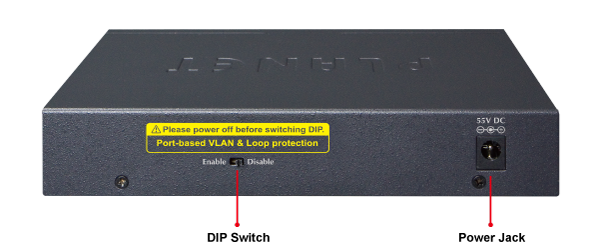 Twee Gigabit Uplink poorten
De GSD-604HP wordt geleverd met twee uplink poorten met 1000Mbps transfer rate om, een high-speed data en video transmissie te garanderen, en een betrouwbare
verzekering voor verbinding tussen het bewakingssyteem en het externe netwerk waar maximaal van de vier POE+ poorten gebruik kan worden gemaakt.
Innovatieve poort-based VLAN en Loop protectie mogelijkheden
De GSD-604HP biedt "poort-based VLAN en Loop protectie", de poorten kunnen worden geïsoleerd van elkaar door middel van een DIP switch. Dit kan voorkomen dat
de IP Camera's multicast of broadcast storm elkaar beïnvloeden.
Meer nog, de GSD-604HP kan de loop network storm beschermen blokken en beschermen tegen de client, en hierdoor volledig aan de eisen voldoen van de
IP bewakings systemen en ethernet projecten.
Port Isolated

Port-based VLAN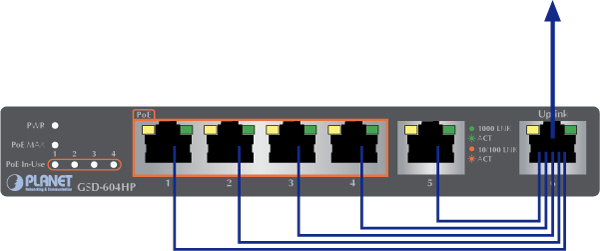 Loop Protection

Omgeving-vriendelijk, Ventilatorloos Ontwerp voor Stille Werking
De GSD-604HP wordt geleverd in een bureau formaat, compacte metalen behuizing, waardoor het plaatsen van de unit eenvoudig is. De geventileerde constructie maakt een koelventilator onnodig waardoor de werking geluidloos is. Daarenboven is de GSD-604HP in staat betrouwbaar en stabiel te funtioneren in iedere omgeving zonder haar prestaties te beïnvloeden. De toepassing van PoE PD's met constant power verbruik kan eenvoudig en snel gedaan worden. 
Robuuste Bescherming
De GSD-604HP beschermt tegen een ESD 6kV piek om op die manier product stabiliteit te verbeteren en ook om de gebruikers te beschermen tegen ESD aanvallen, waardoor de werking niet fluctueert.
Ideale Oplossing voor SOHO met Veilige IP Bewakings Infrastructuur
Met als doelgroep de groeiende populaire IP bewakings toepassingen, is de GSD-604HP PoE+ Switch ook gepositioneerd als een Surveillance (bewaking) Switch voor een snelle en eenvoudige PoE IP camera toepassing met power voeding. De GSD-604HP ondersteunt 802.3at en 802.3af PoE standaard met 4 10/100/1000BASE-T poorten die 30 watt per RJ45 koper interface bieden en 2 extra Gigabit Ethernet TP interfaces met high-speed transmissie voor bewakingsbeelden of video's.
Easy Cable Connection
With data switching and power over Ethernet integrated into one unit, the GSD-604HP reduces cabling requirements and eliminates the need for dedicated electrical outlets on the wall, ceiling or any unreachable place. A wire that carries both data and power can lower the installation costs, simplify the installation effort and eliminate the need for electricians or extension cords. With 4 PoE interfaces, the GSD-604HP is ideal for small businesses and workgroups making the deployment of the PoE facility including wireless access points, IP-based surveillance camera and IP phones in any places easier, more efficient and more cost-effective.