Een Ideale Fiber Switch in Klein Formaat
De PLANET IGS-5225-4T2S is de kleinste, volledig gemanagde Gigabit fiber switch in de industriele netwerk industrie die 4 10/100/1000Mbps koper poorten biedt, 2 100/1000X SFP poorten en een redundant power systeem in een IP30 robuuste maar compacte behuizing. Hij biedt gebruikers vriendelijke maar toch geavanceerde IPv6/IPv4 management interfaces, zeer veel L2/L4 switching functies en Layer 3 static routing mogelijkheden. De IGS-5225-4T2S kan stabiel in de temperatuurrange van -40 tot 75 graden C werken en kan op DIN rail of aan de wand bevestigd worden voor efficient gebruik van cabinet ruimte. Met 2 dual-speed SFP fiber slots, kan de unit flexibel toegepast worden om de verbindingsafstand uit te breiden.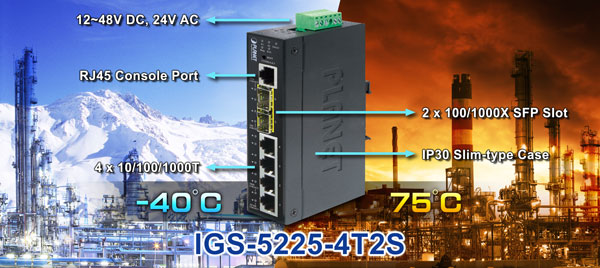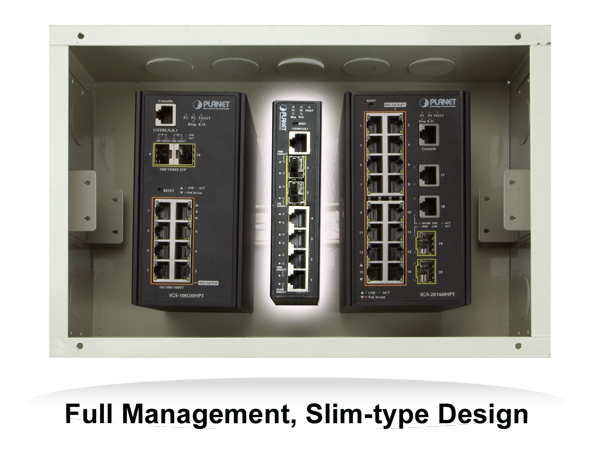 Redundante Ring, Snel Herstel voor Kritische Netwerk Applicaties
De IGS-5225-4T2S ondersteund redundante ring technologie en biedt sterke, snel-herstel capaciteit om onderbrekingen en externe inbraken te voorkomen. De unit brengt geavanceerde ITU-T G.8032 ERPS (Ethernet Ring Protection Switching) technologie, Spanning Tree Protocol (802.1s MSTP), en redundante power in het industriele automatiserings netwerk van de klant om zo de systeem betrouwbaarheid en uptime in zware fabrieks omgevingen te verbeteren. In een eenvoudig Ring netwerk kan de herstel / recovery tijd van de data link wel 20ms zijn.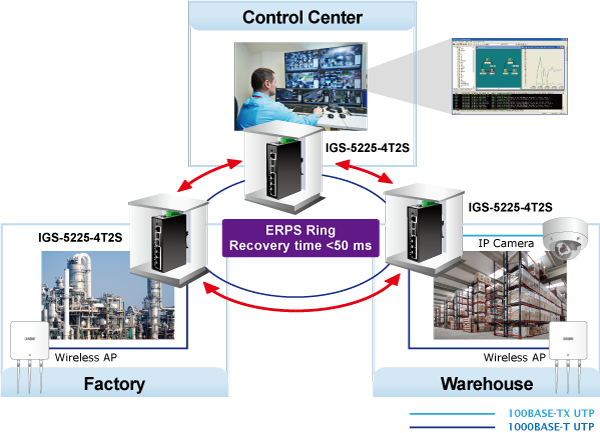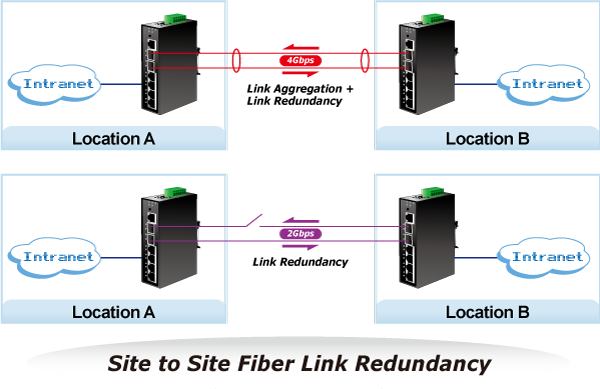 SMTP/SNMP Trap Event Alert
De IGS-5225-4T2S biedt event alert functies om te helpen het abnormale apparaat te diagnostiseren door te bepalen of er een brake is van de netwerk connectie, of door te rebooten.
Effectieve Alarm Meldingen voor een Betere Bescherming
De IGS-5225 serie ondersteund een Fout Alarm Functie die de gebruikers kan waarschuwen wanneer er iets mis is met de switches. Met deze ideale functie hoeven de gebruikers geen tijd te verspillen met het zoeken naar het probleem. Dit helpt met het besparen van tijd en manuren.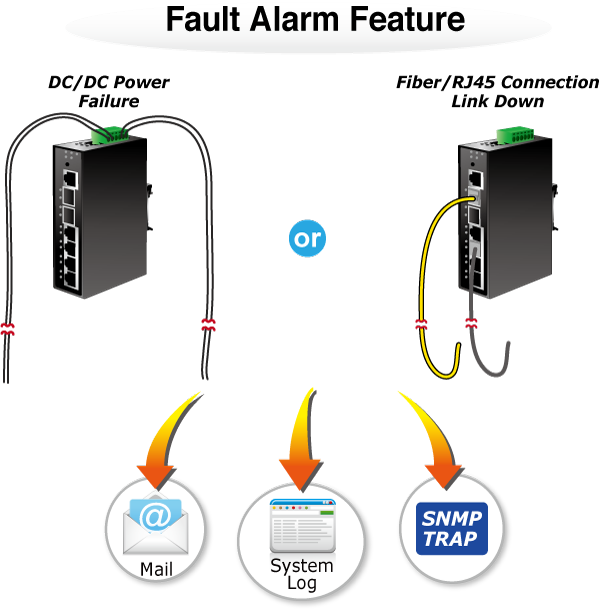 Layer 3 IPv4 en IPv6 Software VLAN Routing voor Veilig en Flexibel Management
Om klanten te helpen voorop te blijven in hun business, biedt de IGS-5225 serie niet alleen ultra hoge transmissie prestaties en excellente Layer 2 technologie, maar ook IPv4/IPv6 software VLAN routing functie die het mogelijk maken om verschillende VLANS te kruisen en verschillende IP adressen met de bedoeling een zeer veilige, flexibele en eenvoudige netwerk applicatie te verkrijgen.
Robuuste Layer 2 Features
De IGS-5225 serie kan worden geprogrammeerd voor geavanceerde switch management functies zoals dynamic port link aggregation, Q-in-Q VLAN, private VLAN, Rapid Spanning Tree Protocol, Layer 2 to Layer 4 QoS, bandwidth control en IGMP snooping. De IGS-5225 serie biedt 802.1Q tagged VLAN, en er zijn maximaal VLAN groepen toegestaan. Via aggregation van supporting ports, levert de IGS-5225-4T2S de werking van een high-speed trunk meerdere poorten combinerend. Het maakt een maximum van 10 trunk groepen met 8 poorten per trunk groep mogelijk en ondersteund ook fail-over.

Efficient Management
Voor efficient management is de IGS-5225 Managed Ethernet Switch serie uitgevoerd met console, Web en SNMP management interfaces. Met de ingebouwde Web-based management interface, biedt de IGS-5225 serie een eenvoudig te gebruiken, platform-independent management en configuratie faciliteit. Voor text-based management, kan de IGS-5225 serie benaderd worden via Telnet en de console poort. Daarnaast biedt de unit veilige remote management via elke standard-based management software door het ondersteunen van SNMPv3 connectie die de pakketen inhoud incrypt tijdens iedere sessie.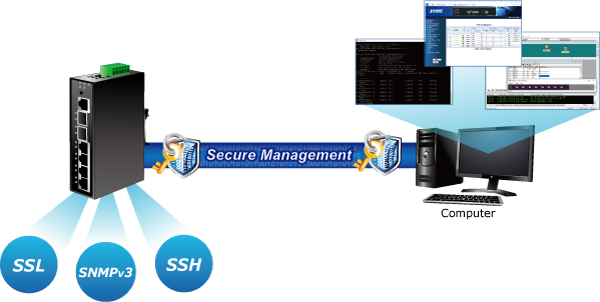 Krachtige Beveiliging
De IGS-5225 serie biedt uitgebreide Layer 2 tot Layer 4 Access Control List (ACL) voor het handhaven van beveiliging tot de max. Het kan worden gebruikt om netwerk toegang te beperken door het weigeren van pakketten gebaseerd op bron en doel IP adressen, TCP/UDP poorten of gedefinieerde typische netwerk applicaties. Het beschermingsmechanisme omvat tevens 802.1X Port-based en MAC-based user en device authentificatie. Met de private VLAN functie, kan communicatie tussen edge poorten worden voorkomen teneinde gebruiker privacy te verzekeren. De netwerk administrator kan nu high-secure bedrijfsnetwerken construeren in een aanzienlijk kortere tijd en met veel minder moeite dan voorheen.
Flexibiliteit en Extentie Oplossing
De additionele twee ingebouwde mini-GBIC slots in de IGS-5225-4T2S ondersteunen dual speed, 100BASE-FX en 1000BASE-SX/LX SFP (Small Form-factor Pluggable) fiber-optic modules, wat inhoudt dat de administrator nu flexibel de geschikte SFP transceiver kan kiezen voor niet alleen de transmissie afstand maar ook de transmissie snelheid die nodig is. De afstand kan uitgebreid worden van 550 meter (multi-mode fiber) tot 10/50/70/120 kilometer (single-mode fiber of WDM fiber). Ze zijn zeer geschikt voor applicaties binnen het organisatie data center en distributies.
Intelligent SFP Diagnose Mechanisme
De IGS-5225 serie ondersteund de SFP-DDM (Digital Diagnostic Monitor) functie die de netweerk administrator zeer helpt om eenvoudig de real-time parameters van de SFP te monitoren, zoals optical output power, optical input power, temperatuur, laser bias current, en transceiver supply voltage.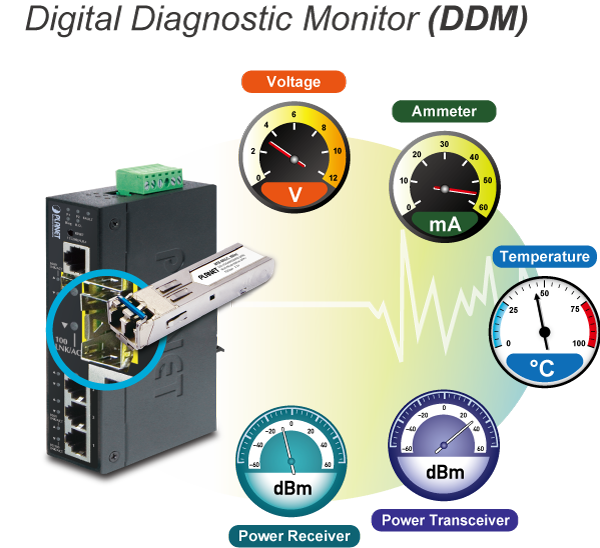 1588 Time Protocol voor Industriele Computing Netwerken
De IGS-5225 serie is ideaal voor telecom en Carrier Ethernet applicaties, MEF service delivery ondersteunend en timing over packet oplossingen voor IEEE 1588 en synchronous Ethernet.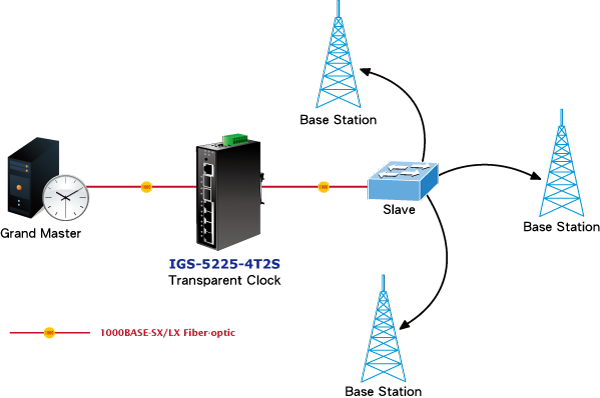 Modbus TCP biedt Flexibele Netwerk Connectiviteit voor Fabrieks Automatisering
Met het ondersteunde Modbus TCP/IP protocol, kan de IGS-5225 serie worden geïntegreerd met SCADA systemen, HMIsystems en andere data acquisitie systemen op fabrieksomgevingen. Het maakt het de administratoren mogelijk om op afstand de industriele ethernet switch's operating information, port information en communication status te monitoren, en daardoor eenvoudig uitgebreiden monitoring en onderhoud te bereiken van de gehele fabriek.