De PLANET Long Reach PoE UTP oplossing is ontwikkeld om de IP Ethernet transmissie afstand te verlengen en tegelijkertijd "Power" te injecteren in een 802.3af/at gebruiker over een veel grotere afstand dan de 100 meter afstand limiet van Ethernet.
Uitvoering met 230V adapter (geen netsnoer bijgeleverd)
Handige PoE over UTP Extender in slechte omgevingen
De LRP-101U-KIT, een Planet Long Reach PoE oplossing, is een enkelpoort PoE over UTP Extender Kit die lange afstand data en power transmissie biedt voor afstanden tot wel 500m over UTP kabel en nog eens 100 meter over ethernet kabel naar een remote PoE IP camera, PoE wireless AP of access control system dat compatibel is met de 802.3af/at PoE. De LRP-101U-KIT levert een point to point toepassing voor eenvoudige plug and play werking en toepassing in klimatologisch zware omgevingen met een wijde temperatuurrange van -20 tot +70 graden celsius. Zonder problemen van voedingbron wordt de installatie van remote PoE gevoede systemen eenvoudiger en efficienter.
Composition of Long Reach PoE over UTP Extender Kit
The LRP-101U-KIT consists of a Long Reach PoE injector and a Long Reach PoE extender set which can work in pair anywhere on your network infrastructure. It contains two brand-new products: 
■ LRP-101UH: 1-Port 10/100TX PoE PD + 1-Port UTP Long Reach PoE Injector
■ LRP-101UE: 1-Port 10/100TX PoE PSE + 1-Port UTP Long Reach PoE Extender
The LRP-101UH transmits data and power over UTP cable to the LRP-101UE, which can be located as far as 500m away. It will then deliver the data and power output with a maximum of up to 25 watts to a PoE PD over Ethernet cable, thus expediting the IP surveillance network or wireless LAN infrastructure in long distance. Both of the two products come in a compact but rugged metal housing. Their wall-mounted design fits easily in any space-limited location.

Power Input

RJ45 with 802.3at/af PoE input orpower adapter with 48~56V DC in

UTP with DC power over UTP input

Power Output

UTP with DC power over UTP output

RJ45 with 802.3at/af PoE output

LAN Connection

NVR or PoE+ Ethernet switch at head-end

PoE IP camera, PoE wireless AP, PoE access control at remote site
IP Ethernet and Power over Long UTP or Twisted-pair Cable
A normal UTP cable can only be extended up to 100 meters, but the LRP-101U-KIT can extend PoE networking up to500 meters (1,640ft.) over long 4-pair UTP cable or up to 300 meters (1,000ft.) over an existing 1-pairtwisted-pair cable, such as telephone wire, with stable, high-quality video transmission. It eliminates the need for additional remote site power while allowing a single power source to provide power to both LRP extenders and the PoE IP camera at long range.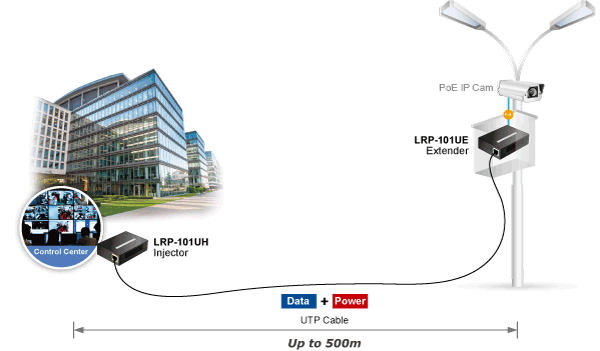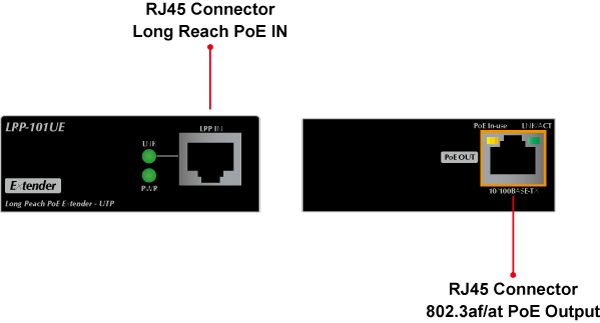 Stable Operating Performance under Difficult Environments
PLANET Long Reach PoE Extender Kit is the perfect solution for distance extension for PoE or non-PoE networking for warehouses, parking lots, campuses, casinos, and many more. They can operate stably under temperature ranging from -20 to 70 degrees C to enable the users to conveniently operate the kit in almost any location.
Plug-n-play Installation
With the plug and play feature, PLANET Long Reach PoE Extender Kit can be used immediately without the need of configuration and is also compliant with all kinds of IP network protocols. Moreover, the rich diagnostic LEDs on the front panel show the operating status of the individual port and the whole system, enabling the administrator to efficiently manage the network.