PoE injector met Hoog Vermogen, Veiligheid, Stabiliteit en eenvoudig te installeren
Het gebruik van Power over Ethernet is van de IT-industrie uitgebreid naar de thuis gebruikers.
PLANET heeft een nieuwe enkel poort PoE+ injector ontwikkeld die voldoet aan de eisen van zowel de IT-industrie als van de thuis gebruikers voor wat betreft zowel hoge wattage als eenvoudige installatie.
De POE-163 is geschikt voor wandmontage.
Een enkelpoorts Gigabit 802.3at PoE+ injector met interne voeding in een compacte behuizing. Met het gelijktijdig verwerken van Ethernet data en power helpt de POE-163 gebruikers met het gebruik van slechts één Ethernet kabel om eenvoudig IP camera's, draadloze Access Point of VoIP telefoon netwerken te installeren in omgevingen waar het lastig is een stopcontact te vinden.

De unit biedt een betaalbare, veilige en betrouwbare voedingsoplossing voor kostenbewuste bedrijf -en thuis gebruikers die een Power over Ethernet netwerk uitrollen.
30-watt Power over Ethernet Capaciteit
De PoE in-line power conform de IEEE 802.3at/af Power over Ethernet Plus standaard maakt de POE-163 geschikt om Gigabit snelheid ethernet te leveren en tot wel 30 watts vermogen om remote PoE compatibele gebruikers te voeden (PDs) over een Cat.5E/6 Ethernet kabel. De POE-163 biedt meer flexibiliteit in vermogens vraag voor allerlei PDs met betaalbare installatie kosten. Speciaal ontworpen voor hogere vermogens eisende netwerk apparatuur zoals PTZ (Pan, Tilt & Zoom) speed dome, high power outdoor AP die gevoed kunnen worden en normaal kunnen functioneren via slechts een enkele UTP kabel met de PoE power injector, de POE-163.
Alles in een en compacte afmetingen
Met concepten als "Easy to install", "Plug and Play" en "Simple troubleshooting" voor bedrijven en thuis gebruikers, is de POE-163 een alles-in-een enkel-poort PoE+ injector met interne voeding. In de compacte behuizing levert de POE-163 een 100-240V AC ingang aan de voorzijde, twee LEDs (System POWER en PoE ACTIVE ) aan de bovenzijde en twee RJ-45 poorten (POE port en LAN port) aan de achterzijde. Sluit eenvoudigweg de ethernet kabel en de voedingskabel aan en de PoE-163 is gereed om high speed netwerk communicatie en high power PoE+ gelijktijdig te leveren zonder noodzaak voor software configuratie.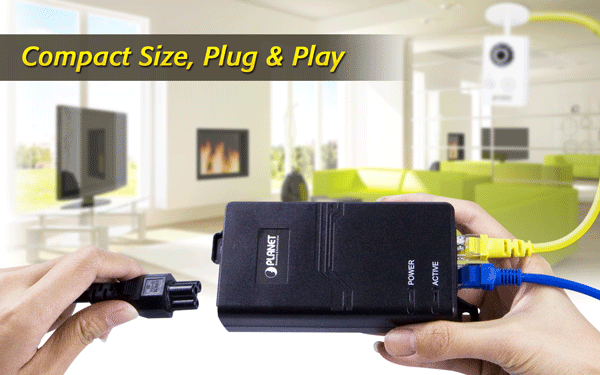 Snelle en eenvoudige bekabeling voor het uitrollen van een PoE netwerk
Door te voldoen aan zowel de 802.3af als ook de 802.3at PoE standaard, biedt de POE-163 gebruikers de mogelijkheid om flexibel standaard en high power apparaten gelijktijdig data en power door een ethernet kabel te voeren tot een lengte van 100 meter. De POE-163 bevrijdt de Security IP Camera en wireless AP ontwikkeling van de restricties van stopcontact locaties en additionele AC bekabeling. Hierdoor vermindert het dus kabels, het elimineert de noodzaak voor stopcontacten op muur, plafond of andere onbereikbare plaatsen en daarnaast ook nog: het vermindert installatie tijd.