De PLANET POE-173 Ultra Power over Ethernet Injector levert maximaal 60-watt vermogen en een Gigabit data verbinding, overal binnen uw netwerk. De PLANET Ultra Power over Ethernet oplossingen bevatten twee gloednieuwe producten:
 ■ POE-173: 60-watt Ultra Power over Ethernet Injector
 ■ POE-171S: 12V / 19V / 24V DC Power over Ethernet Splitter
Snel en eenvoudig Gigabit Ultra Power PoE Netwerk Installeren
De POE-173 is een Enkel-Port, Ultra Power over Ethernet Injector met maximaal 60 watts power output over Ethernet kabels. De unit is speciaal ontworpen om te voldoen aan de groei naar steeds meer vermogen bij netwerk apparatuur zoals:
 ■ PTZ Speed Dome
 ■ AIO(All-in-One) touch PC
 ■ Remote digital signage display
 ■ Andere Netwerk apparatuur die veer vermogen nodig hebben bij normale werking. 
De POE-173 levert de Ethernet digitale data met 50V DC power over de twisted pair kabels als 60-watt Power over Ethernet Injector, en de eventueel aangesloten Ultra Power over Ethernet splitter – de POE-171S – splitst de digitale data en de "power" naar drie mogelijke spanningen (12V / 19V / 24V DC). De afstand tussen de injector en de splitter kan tot 100 meter oplopen.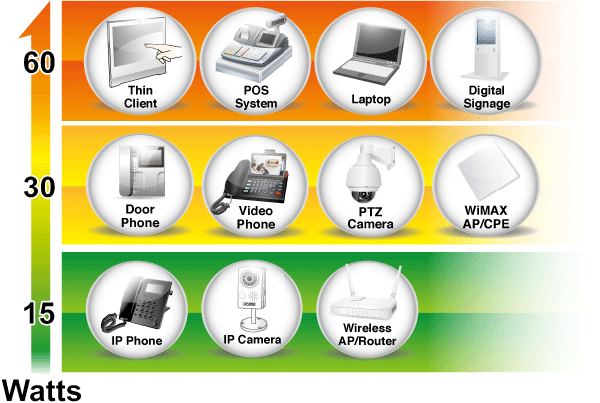 60 watt vermogen over 4-paar UTP
De POE-173 en de POE-171S Ultra PoE oplossingen gebruiken dezelfde standaard bekabeling als de IEEE 802.3af/at PoE. In plaats van het leveren van de voeding over een 2-paar getwitste UTP – of het nu end-span (Pins 1, 2, 3 en 6) of mid-span (Pins 4, 5, 7 and 8) is, levert het systeem 60 watts vermogen door gebruik te maken van alle vier de paren van een standaard Cat. 5e/Cat. 6 Ethernet bekabeling.

PoE Standard

IEEE 802.3af
(802.3at Type 1)

IEEE 802.3at 
(802.3at Type 2)

Ultra PoE 
(POE-173)

Maximum Power
delivered by PSE

15.4 watts

30 watts

60 watts

Power Available at PD

12.95 watts

25.5 watts

50 watts

Voltage Range

48V

50~57V

50V

Twisted Pair Used

2-Pair

4-Pair

Supported Modes

End-Span or Mid-Span

End-Span + Mid-Span

Supported Cabling

Cat 3/5/5e/6

Cat5e/6

 
Alles-in-één en Compace Behuizing
Het is eenvoudig de POE injector te installeren met Plug and Play en de unit wordt geleverd met een eenvoudige troubleshooting, hierdoor wordt het eenvoudig voor bedrijven en eindgebruikerts deze oplossing toe te passen.Daarnaast wordt de POE-173 in een compacte behuizing uitgevoerd en levert hij een 52~56V DC input power jacket, één power LED, PoE-in-use LED en Legacy LED. Twee RJ45 poorten — een Ethernet poort en een Ethernet + DC poort – bevinden zich op het zij-paneel. U sluit eenvoudigweg de Ethernet kabel en de voedingskabel aan en de POE-173 is klaar voor gebruik om high-speed netwerk communicatie en de 802.3bt PoE injector functies gelijktijdig te leveren zonder de noodzaak van software configuratie.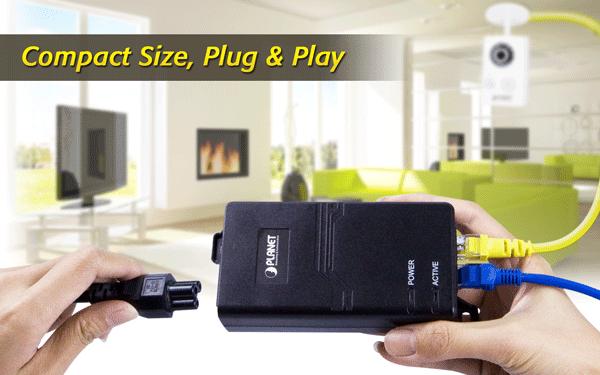 Snel en Eenvoudige kabel installatie voor een PoE Netwerk Uitrol
Omdat de injector backward compatibel is met de 802.3af/at PoE standaards, maakt de POE-173 het gebruikers mogelijk om flexibel standaard en high power apparatuur toe te passen om data en power gelijktijdig over een enkele data kabel te voeren over wel 100 meter. De POE-173 bevrijd de beveiligings IP camera en wireless AP toepassing van de restricties van de locatie van het stopcontact en de extra elektra bekabeling. Hierdoor wordt de bekabeling gereduceerd en zijn er geen stopcontacten meer nodig.