Ontwerp geschikt voor Extreme Omgevingscondities
De PLANET IGS-5225-8T2S2X is een industriële Layer 2+ managed Gigabit Switch die 8 10/100/1000Mbps koper poorten, 2 additionele 100/1000/2500X SFP poorten en 2 10G SFP+ poorten biedt, en static Layer 3 routing ondersteunt in een stevige IP30 aluminium behuizing voor stabiele werking in zware, industrieel veeleisende omgevingen. Met 10Gbps uplink, kan de IGS-5225-8T2S2X extreem grote hoeveelheden data in een veilige topologie linken aan een enterprise backbone of aan high capacity servers. De IGS-5225-8T2S2X is in staat non-blocking switch fabric te leveren en wire-speed doorvoer tot wel 60Gbps zonder packet loss en CRC error. Het vereenvoudigd de taak om de ondernemings LAN te upgraden naar het leveren van toenemende bandbreedte wensen aanzienlijk.
Daar de unit in staat is te funtioneren binnen een grote temperatuurrange, van -40 tot 75 graden C, kan de IGS-5225-8T2S2X geplaatst worden in nagenoeg elke zware omgeving. De IGS-5225-8T2S2X kan op een DIN-rail bevestigd worden of men kan gebruik maken van muurbevestiging om zodoende ruimte in de omkasting te besparen.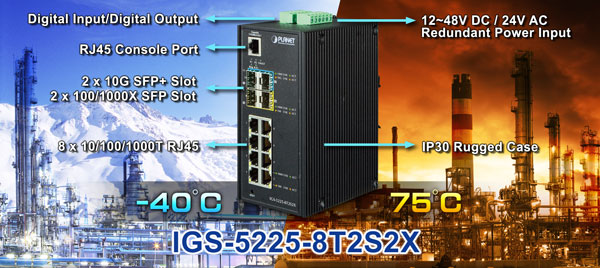 Flexibele en Uitbreidbare 10Gb Ethernet Oplossing
10G Ethernet is een grote sprong in de evolutie van Ethernet. Elk van de 10G SFP+ slots in de IGS-5225-8T2S2X ondersteunt dual speed en 10GBASE-SR/LR of 1000BASE-SX/LX, hiermee een grote bandwidth en een krachtige processing capaciteit biedend. Met de 2-poorten, 10G Ethernet link capaciteit, kan de administrator flexibel de geschikte SFP/SFP+ transceiver kiezen overeenkomstig de transmissie afstand of de transmissie snelheid die nodig is om de netwerk efficiëntie uit te breiden. 
Effectieve Alarm Meldingen voor Betere Bescherming
De IGS-5225 serie ondersteunt een Fault Alarm functie die gebruikers kan waarschuwen wanneer er iets mis is met de switch. Met deze, ideale functie, is het voor de gebruikers niet noodzakelijk het probleem te zoeken. Het helpt tijd en mensen te besparen.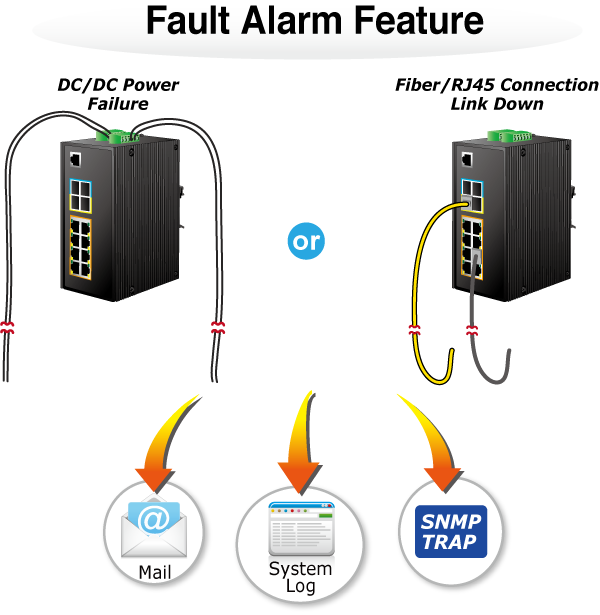 SMTP/SNMP Trap Event Alert
De IGS-5225 serie levert event alert functionaliteit om een diagnose te stellen van het abnormaal werkende apparaat of er sprake is van een breuk in de network connectie, of dat het nodig is te rebooten.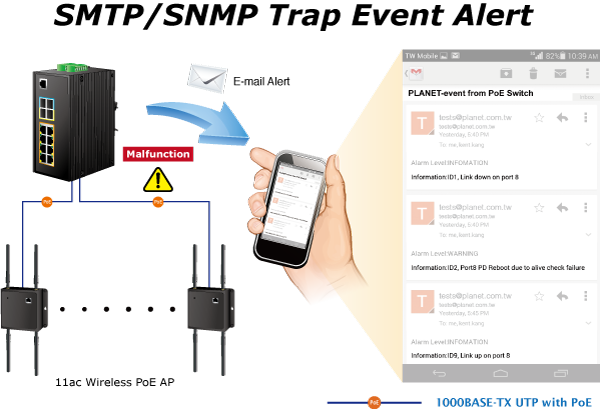 Digital Input en Digital Output voor Extern Alarm
De IGS-5225 serie ondersteunt Digital Input en Digital Output op het front paneel. Dit externe alarm maakt het gebruikers mogelijk om Digital Input te gebruiken om externe apparatuur status te detecteren en te loggen (zoals deur meldcontacten) en om een alarm te versturen aan de beheerder. Het Digital Output contact kan worden gebruikt om de beheerder te alarmeren wanneer de IGS-5225 serie poort een link down, link up of voedingsuitval signaleert.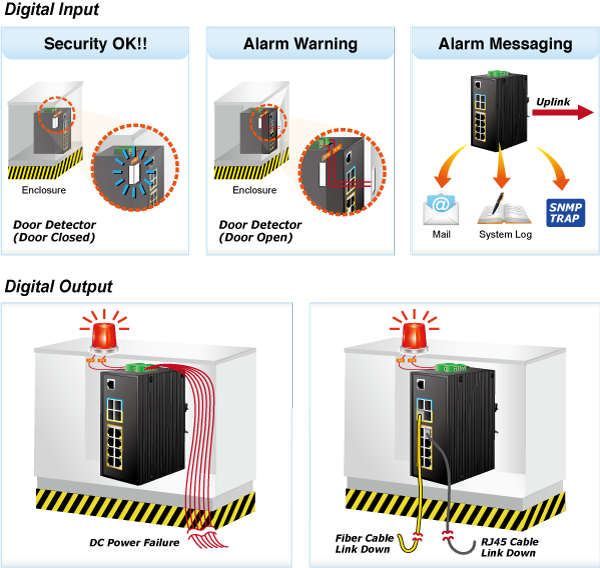 Layer 3 IPv4 en IPv6 Software VLAN Routing voor Veilig en Flexibel Management
Teneinde klanten te helpen hun bedrijven onder controle te houden  biedt de IGS-5225 serie niet alleen een ultra hoge transmissie prestatie en excellente Layer 2 technologieën, maar ook IPv4/IPv6 software VLAN routing mogelijkheden die de kruising van verschillende VLANs en verschillende IP adressen mogelijk maakt  om zo een hoge veiligheid, flexibel management en eenvoudigere netwerk toepassing mogelijk te maken.

Robuuste Layer 2 Functionaliteiten
De IGS-5225 serie kan geprogrammeerd worden voor geavanceerde switch management funkties zoals dynamic port link aggregation, Q-in-Q VLAN, private VLAN, Rapid Spanning Tree Protocol, Layer 2 to Layer 4 QoS, bandwidth control en IGMP snooping. De IGS-5225 serie levert 802.1Q tagged VLAN, en staat maximal 255 VLAN groups toe. D.m.v. aggregation van ondersteunende poorten staat de  IGS-5225 serie de werking van een high-speed trunk toe om zo multiple poorten te combineren. Het maakt een maximum van 6 trunk groepen toe met 8 poorten per trunk groep en het ondersteund tevens fail-over.


Efficiënt Management
Voor efficiënt management, is de IGS-5225 Managed Ethernet Switch serie uitgevoerd met console, Web en SNMP management interfaces. Met de ingebouwde Web-based management interface, biedt de IGS-5225 serie een eenvoudige platform-onafhankelijke configuratie optie. Voor tekst-based management kan de IGS-5225 serie benaderd worden met Telnet en de console poort. Verder biedt het remote management via elke standaard management software de SNMP v3 verbindingen ondersteunt die de pakket inhoud iedere sessie codeert.

Krachtige Beveiliging
De IGS-5225 serie biedt veelomvattende Layer 2 to Layer 4 Access Control List (ACL) om beveiliging te maximaliseren. Het kan gebruikt worden om netwerktoegang te beperken door pakketten te weigeren gebaseerd op bron en doel IP adres, TCP/UDP poort of gedefinieerde typische netwerk applicaties. Het beveiligingsmechanisme omvat 802.1x Port-based en MAC-based gebruikers en apparaat authenticatie. Met de  private VLAN functie, communicatie tussen edge poorten kan worden voorkomen teneinde gebruikers privacy te waarborgen. De netwerk beheerder kan nu een zeer veilig bedrijfsnetwerk opbouwen in aanzienlijk minder tijd en moeite dan eerder.
Intelligent SFP Diagnose Mechanisme
De IGS-5225 serie ondersteunt de SFP-DDM (Digital Diagnostic Monitor) functie die de beheerder enorm helpt bij het eenvoudig bewaken van de real-time parameters van de SFP, zoals optical output power, optical input power, temperature, laser bias current, en transceiver supply voltage.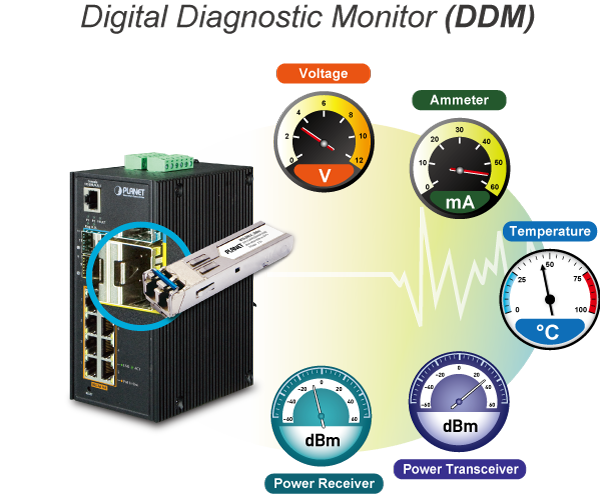 Modbus TCP biedt Flexibele Netwerk Connectiviteit voor Fabriek Automatisering
Met het ondersteunde Modbus TCP/IP protocol, kan de IGS-5225-8T2S2X eenvoudig in SCADA systemen, HMI systemen en andere data acquisitie systemen in fabrieksomgevingen geïntegreerd worden. Het stelt beheerders in staat om op afstand de werkingsinformatie, poort informative en communicatie status te monitoren waardoor een uitgebreide bewaking en onderhoud van de gehele fabriek mogelijk wordt gemaakt.