Test snel en eenvoudig een RJ-45 uitgang op Power over Ethernet aanwezigheid in één seconde.
De Planet POE-TESTER is een eenvoudig te gebruiken PoE diagnostische adapter voor netwerk installateurs bedrijfs ICT'ers en zelfs thuis gebruikers. Met deze tester is het mogelijk snel de aanwezigheid van Power over Ethernet in een netwerk te onderzoeken, het is ontworpen om te detecteren of de IEEE 802.3af/at PoE spanning op de UTP kabel aanwezig is en om te bepalen welk type PSE (Power Source Equipment) is gebruikt voor troubleshooting.
Plug and Show LED indicator
Verbind eenvoudig de POE-TESTER met de PSE of de RJ-45 uitgang en de LED zal gaan branden wanneer het de PoE spanning via de UTP detecteert en identificeert de de PSE als mid-span, end-span of zelfs de nieuwste 4-pair 60 Watt ULTRA-POE in een tel.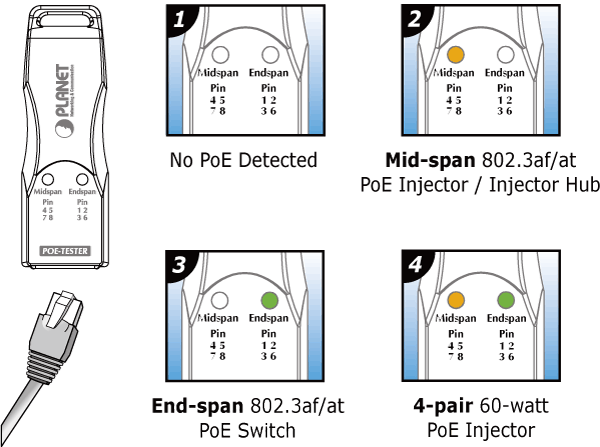 Identificeer PoE PSE modes
De POE-TESTER biedt twee LED's voor een snelle en eenvoudige PSE mode identificatie. Een Power over Ethernet systeem bestaat uit een PSE (Power Sourcing Equipment) en een PD (Powered Device). De PSE is een apparaat dat een voeding levert in een PoE installatie. Er zijn twee typen PSE, Mode A en Mode B. De PSE kan een Mode A, end-span PoE switch of een Mode B, mid-span PoE injector zijn.

De PD is een PoE-gebruikende unit die die van een PSE haar voeding krijgt zoal IP netwerk cameras, VoIP telefoons en draadloze access points en anderen.
PoE installtie troubleshooting
Hoewel PD's die slechts Mode A met end-span of Mode B met mid-span gebruiken niet meer zijn toegestaan volgens de IEEE 802.3af/at standaard, zijn er nog steeds PD's die alleen met één van de Mode's werken. Dit zorgt ervoor dat de PoE PSE en PD niet compatibel zijn met elkaar in de applicaties. Bijvoorbeeld een end-span ontworpen PoE switch kan geen "mid-span only" draadloos access point op afstand opstarten. Maar meestal weten de installateurs niet exact wat de remote PSE's zijn. De Planet POE-TESTER controleert uw UTP kabel voor voeding en identificeert de bron, mid-span of end-span. Verzeker u ervan dat er PoE is aan het einde van uw UTP kabel en de volgende stap is om te controleren of de PD compatibel is met de PSE, of dat er een storing is in de PD.