De PLANET Long Reach PoE Oplossingen maken het alle bedrijven en netwerk service providers mogelijk om een IP infrastructuur op te zetten op afgelegen locaties waar 802.3af/at PoE compatibel gevoedde apparaten zowel data als power via PLANET switches, en PLANET LRP extenders en injectoren kunnen ontvangen over langere afstanden, niet meer gelimiteerd door de normale 100 meter.
Intelligente Long Reach PoE Switch op Coax-gebaseerd Netwerk
4 BNC poorten met Long Reach PoE Injector functie, 2 Gigabit koper poorten en 2 extra 100/1000BASE-X SFP fiber slots. Elk van de BNC poorten levert 36 watt vermogen met een totaal power budget van 150 watt. Net als een geavanceerde PoE switch, biedt de LRP-422CST intelligente PoE functies om de beschikbaarhijd van kritische applicaties te verbeteren. De switch letert ee snelle, veilige en kosten besparende PoE netwerk oplossing om zo de bestaande coax kabel infrastructuur te upgraden van een analoog systeem naar een HD IP bewakingssysteem.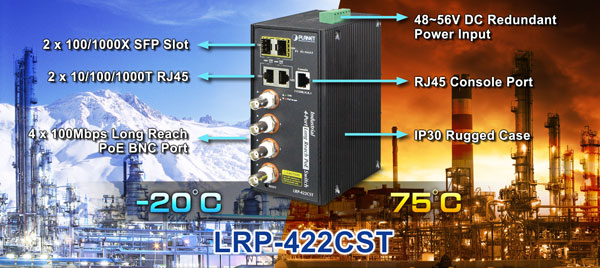 Ontwerp voor zware industriële omgeving
Met een IP30 industriële behuizing, levert de LRP-422CST een hoog niveau van bescherming tegen electromagnetische interferentie en zware elektirische pieken zie vaak gevonden worden op de fabrieksvloer en aan de straatkant in verkeers controle kasten. De unit bevat tevens een geïntegreerde voeding met een wijd spanningsbereik (48 tot 56V DC) voor een wereldwijde hoge beschikbaarheid voor applicaties die dubbele of backup power inputs nodig hebben. Doordat de unit kan functioneren binnen een temperatuurbereik van -40 tot 75 graden C, kan de LRP-422CST in bijna elke zware industriële omgeving toegepast worden.
Multi-channel Long Reach Power over Ethernet
Om de organisaties te ondersteunen in het eenvoudig bouwen van een multi-channel en centraal-gecontrolleerd Long Reach PoE systeem, werkt de LRP-422CST samen met de Long Reach PoE Extenders, LRP-101CE, via de  4 BNC poorten, de Long Reach PoE injectoren voor alle aangesloten LRP Extenders. Via elk van de BNC poorten kan long range data en power transmissie worden gevoerd over afstanden tot 1,000m over coax kabel naar de LRP Extender, en nog eens 100m over Ethernet kabel naar de PoE IP camera, PoE wireless AP of toegangscontrole systemen die functioneren met 802.3af/at PoE.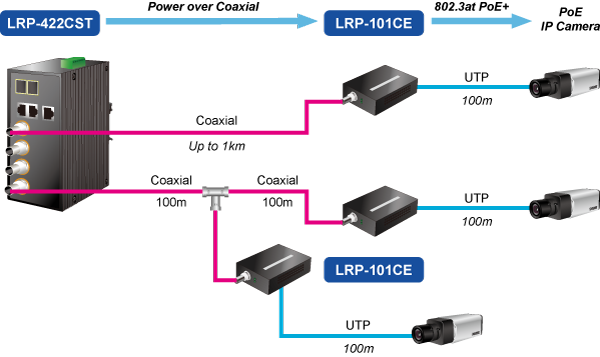 Centraal Power Management
Met het centraal gemanagede PoE budget van 150 Watt, elimineert de LRP-422CST de noodzaak voor voeding op de afgelegen locatie terwijl een enkele voedingsbron de energie kan leveren over grote afstand voor zowel de LRP extenders alsook de PoE powered systemen. De Long Reach PoE mogelijkheden zorgen ervoor dat de installatietijd en de uitrol kosten voor netwerk apparatuur verminderd worden doordat de installatie niet meer afhankelijk is van de locatie van stopcontacten. 
Daisy-chaining Multiple Nodes
De PLANET Long Reach PoE oplossing kan eenvoudig een voedingssysteem opbouwen voor centraal gecontrolleerde IP Camera's in een "high availability" netwerk infrastructuur. Het geeft gebruikers de flexibiliteit om kleine netwerken uit te breiden met BNC T-connector op zo vier nodes per poort te gebruiken indien noodzakelijk, hierdoor wordt de LRP-422CST met 4 BNC Long Reach PoE Poorten een ideale ondersteuning voor tot wel 16 PoE gevoedde apparaten.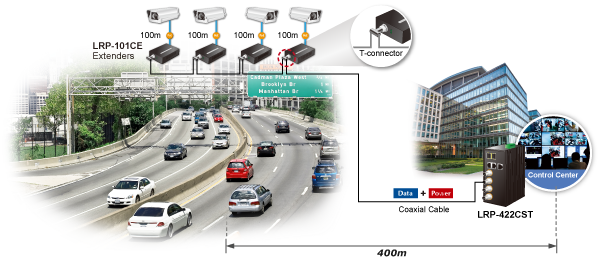 Built-in Unique PoE Functions for Powered Devices Management
As a managed PoE switch for surveillance, wireless and VoIP networks, the LRP-422CST particularly features the following special PoE Management functions to accomplish a highly-efficient Long Reach network:
■ PD Alive Check
■ Scheduled Power Recycling 
■ PoE Schedule
■ PoE Usage Monitoring
Intelligent Powered Device Alive Check
The LRP-422CST can be configured to monitor connected PD (Powered Device) status in real time via ping action. Once the PD stops working and responding, the LRP-422CST will resume the PoE port power and bring the PD back to work. It will greatly enhance the network reliability through the PoE port resetting the PD's power source and reducing administrator management burden.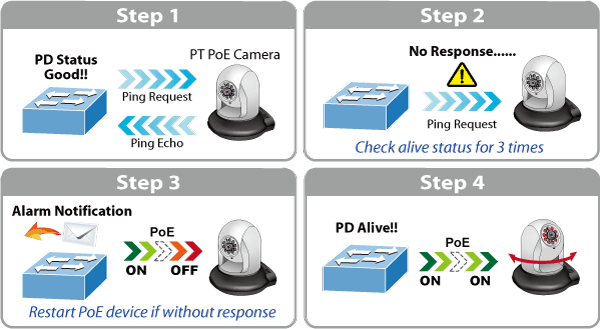 Scheduled Power Recycling
The LRP-422CST allows each of the connected PoE IP cameras or PoE wireless access points via the LRP-101CE Long Reach PoE Extender to reboot at a specific time each week. Therefore, it will reduce the chance of IP camera or wireless AP crash resulting from buffer overflow.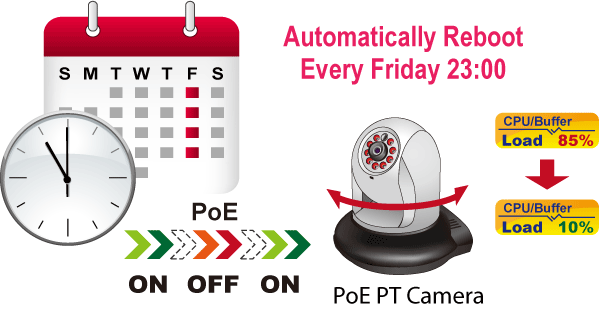 PoE Schedule for Energy Saving
Under the trend of energy saving worldwide and contributing to environmental protection, the LRP-422CST can effectively control the power supply besides its capability of giving high watts power. The "PoE schedule" function helps you to enable or disable PoE power feeding for each PoE port during specified time intervals and it is a powerful function to help SMBs or enterprises save power and budget. It also increases security by powering off PDs that should not be in use during non-business hours.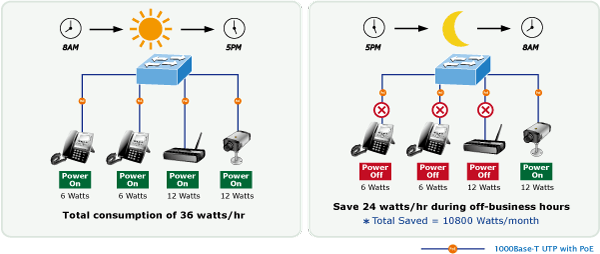 PoE Usage Monitoring
Via the power usage chart in the web management interface, the LRP-422CST enables the administrator to monitor the status of the power usage of the connected PDs in real time. Thus, it greatly enhances the management efficiency of the facilities.
IPv6/IPv4 Dual Stack
Supporting both IPv6 and IPv4 protocols, the LRP-422CST helps the SMBs to step in the IPv6 era with the lowest investment as its network facilities need not be replaced or overhauled if the IPv6 FTTx edge network is set up. 
Robust Layer 2 Features
The LRP-422CST can be programmed for advanced switch management functions such as dynamic port link aggregation, 802.1Q VLAN and Q-in-Q VLAN, Multiple Spanning Tree Protocol (MSTP), Loop and BPDU Guard, IGMP Snooping, and MLD Snooping. Via the link aggregation, the LRP-422CST allows the operation of a high-speed trunk to combine with multiple ports such as an 8Gbps fat pipe, and supports fail-over as well. Also, the Link Layer Discovery Protocol (LLDP) is the Layer 2 Protocol included to help discover basic information about neighboring devices on the local broadcast domain.

Efficient Traffic Control
The LRP-422CST is loaded with robust QoS features and powerful traffic management to enhance services to business-class data, voice, and video solutions. The functionality includes broadcast/multicast storm control, per port bandwidth control, IP DSCP QoS priority and remarking. It guarantees the best performance for VoIP and video stream transmission, and empowers the enterprises to take full advantage of the limited network resources.
Powerful Security
PLANET LRP-422CST offers comprehensive IPv4/IPv6 Layer 2 to Layer 4 Access Control List (ACL) for enforcing security to the edge. It can be used to restrict network access by denying packets based on source and destination IP address, TCP/UDP ports or defined typical network applications. Its protection mechanism also comprises 802.1X port-based user and device authentication, which can be deployed with RADIUS to ensure the port level security and block illegal users. With the Protected Port function, communication between edge ports can be prevented to guarantee user privacy. Furthermore, Port Security function allows to limit the number of network devices on a given port. 
Advanced Network Security
The LRP-422CST also provides DHCP Snooping, IP Source Guard and Dynamic ARP Inspection functions to prevent IP snooping from attack and discard ARP packets with invalid MAC address. The network administrators can now build highly-secure corporate networks with considerably less time and effort than before.
Friendly and Secure Management
For efficient management, the LRP-422CST is equipped with console, Web, Telnet and SNMP management interfaces. With the built-in Web-based management interface, the LRP-422CST offers an easy-to-use, platform-independent management and configuration facility. By supporting the standard Simple Network Management Protocol (SNMP), the switch can be managed via any standard management software. For text-based management, the switch can be accessed via Telnet and the console port. Moreover, the LRP-422CST offers secure remote management by supporting SSH, SSL and SNMP v3 connections which encrypt the packet content at each session.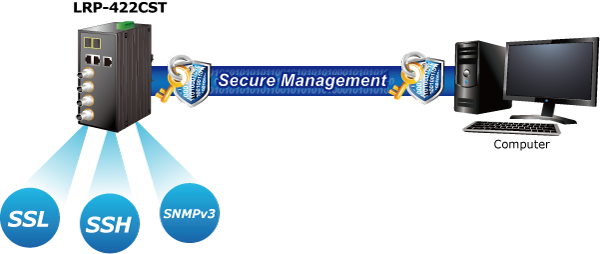 Flexibility and Long-distance Extension Solution
The LRP-422CST provides two Gigabit TP interfaces supporting 10/100/1000BASE-T RJ45 copper to be connected with surveillance network devices such as NVR, Video Streaming Server or NAS to facilitate surveillance management. Or through another two dual-speed fiber SFP slots, it can connect with the 100BASE-FX/1000BASE-SX/LX SFP (Small Form-factor Pluggable) fiber transceiver to uplink to backbone switch and monitoring center in long distance. The distance can be extended from 550 meters to 2 kilometers (multi-mode fiber) and up to 10/20/30/40/50/70/120 kilometers (single-mode fiber or WDM fiber). The LRP-422CST is well suited for applications within the enterprise data centers and distributions.
Intelligent SFP Diagnosis Mechanism
The LRP-422CST also supports SFP-DDM (Digital Diagnostic Monitor) function that can easily monitor real-time parameters of the SFP for network administrator, such as optical output power, optical input power, temperature, laser bias current and transceiver supply voltage, thus increasing the efficiency of network management.